Exclusive: Pogba exit has created a fracture between Allegri and Juventus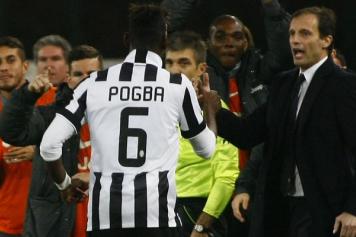 09 January at 14:01
According to our sources, Max Allegri isn't on idyllic terms with Juventus' leadership.
The problem is basically the departure of Paul Pogba, and the lack of alternatives recruited since.
Having spent
€
90 million on the likes of Gonzalo Higuain, the Bianconeri should be competitive in the Champions League. Instead, a team that used to line up the likes of Paul Pogba, Andrea Pirlo and Arturo Vidal is now using a recovering Claudio Marchisio, an injury-plagued Sami Khedira and Stefano Sturaro.
An anonymous message recently says to us says a lot, too: "If Evra leaves, we'll have no-one. We'd had Asamoah (who has played in this role for three seasons), Mattiello and possibly Chiellini".
The summer's arrivals haven't made up for one particular issue: Paul Pogba's absence.
Without the Frenchman, the defence looks exposed. New arrival Miralem Pjanic is much better behind the strikers.
Juventus knew they'd be selling Pogba back in April, but couldn't land Matuidi, couldn't get Witsel, and are now stuck with the hard-working Stefano Sturaro.

Giampiero Timossi, adapted by @EdoDalmonte