Exclusive: Roma looking at American teen to replace De Rossi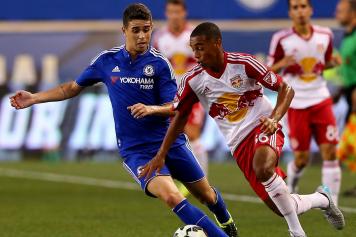 07 December at 12:00
By: Matthew Klimberg (@KlimbergCalcio)
​With the world-cup winner's age catching up to him, Daniele De Rossi is clearly at the end of his long, illustrious career with AS Roma. The new captain - after the retirement of his friend and longtime colleague Francesco Totti - has seen a sharp decline in his abilities over the past few seasons, and rumors of his future are picking up steam.
While it's nearly unthinkable to see him in any other uniform (save for an MLS one), Monchi, Roma's revered sporting director, is looking at replacements for the future. One place he has already looked is America, specifically New York/New Jersey.
Tyler Adams has emerged as one of the brightest young American talents in recent years. The New York Red Bulls' 18-year-old star made his first – and, as many feel, long overdue – cap for his country in November, and has generated buzz throughout North America.
The defensive-midfielder has already been looked at by Valencia, and now it appears Roma has taken note. According to a source with the club, while a transaction is not imminent – nor is it clear whether they've begun making overtures to his MLS club – it is confirmed that Adams is on their radar.
Roma has strong roots in America. President James Pallotta is a native of Boston, and has snubbed multiple attempts from MLS to buy an American team. Current US National Team captain Michael Bradley used to wear the Giallorossi uniform.
At just 18 and unproven, it's unlikely that he'd step into De Rossi's role when his contract expires after next season. However, it is possible that he could make the move to the Eternal City down the line. He's someone to keep an eye on, as Roma has learned.