EXCLUSIVE Romano: Man United asked Juventus about Dybala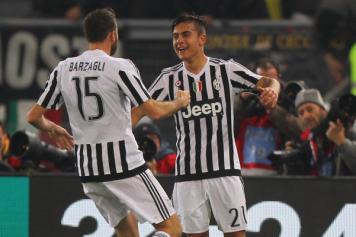 23 February at 11:03
Everyone wants Paulo Dybala. Juventus fans aren't far from building a church for the 22-year-old prodigy, whose emergence has coincided with Juventus' devastating march to the title, in which the Bianconeri have wiped out an 11-point deficit and beaten fellow title contenders in Inter (in the Coppa Italia), Fiorentina, Roma and Napoli.

After a tetchy start in which Coach Max Allegri cleverly let him slowly adapt to his new team, the Argentina has gone crazy, netting 13 times in 24 games. For those counting at home, he's matched last season's total... with ten games to spare.

Now, it is inevitable that someone of Dybala's talent should attract international attention. He was already in PSG's sights last summer, when the Parisian club was ready to go crazy had it managed to reel in Diego Simeone to replace Laurent Blanc. Lionel Messi, for his part, recommended his countryman to Barcelona, but the cash-strapped Catalans didn't want to bet on someone who wasn't a sure thing.

Whilst there is truth in Barcelona having a very high opinion of so talented a player as Dybala, another club has really made a step towards bringing Juventus to the table.
We can exclusively reveal that Manchester United sent a few feelers to Turin, before asking how much La Joya cost. Unfortunately, it's not about cost at the J Stadium, where the Argentine superstar is considered to be unsellable. We talked about Pogba justifying an indecent proposal. Now Dybala is in the same category.
Juventus have, however, been very clear about Dybala's status: he's not for sale, and won't be in the near future. Why? Because the Old Lady doesn't want to sell players to buy them anymore: she wants to buy them full stop. Someone like IncreDybala would have to fetch more than
€
100 million, and even then you feel that he would still be untouchable. The Red Devils have got the message, all right: Juve's crown jewels are not for sale, whether it's Pogba, Dybala, or even that brilliant young Alex Sandro chap, whom the Old Lady values very highly indeed.

Fabrizio Romano (@FabrizioRomano), translated by Edo Dalmonte (@edodalmonte)