Exclusive: The background of AC Milan's duel with Fiorentina to sign Muriel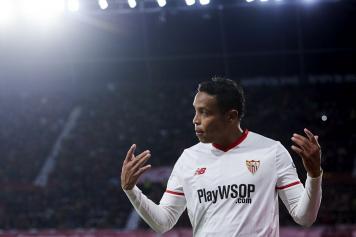 31 December at 10:10
The first contacts since last November, then the phone calls, continuous contacts. Fiorentina have been interested in Luis Muriel for weeks, a total insistence that became a pact a few days ago. Between Thursday and Friday, the agreement was verbal and the player was convinced.
The Colombian is ready to leave Sevilla to land in Florence, despite a call from Monchi on behalf of Roma to which Muriel has recently been proposed. Muriel has given his word to Fiorentina who are preparing the offer for Sevilla to close the deal without problems. But what is going on with AC Milan?
Last weekend, Leonardo personally made the first contact with Sevilla, with which the relations are very good after the Andre Silva operation and agreed a loan with an option to buy deal. However, it was necessary to change Muriel's mind and here the tension has risen in the last 24 hours because Fiorentina want Muriel to respect the given word and want to translate the promises in signatures as soon as possible and yesterday they already had the contracts prepared for the former Sampdoria man.
A strong signal for Muriel. Milan do not want to force the player but hope for a rethinking of the Colombian. But Leonardo knows that Fiorentina have yet to complete the final details of the agreement with Sevilla for the paid loan with the right of redemption: this is where Milan's last hope lies. The Fiorentina sporting director has not taken it well but is convinced of a happy ending.