Exclusive: Why Inter are struggling to sell Joao Mario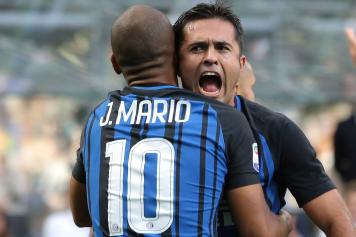 30 August at 11:45
Joao Mario doesn't look like he's long for Inter, but selling him is turning out to be difficult, we can reveal through our sources.
Federico Zanon confirms for our page that the Nerazzurri have had a lot of smoke, but not a lot of fire: there was talk on Betis - who now want to bet on Rafinha - while Besiktas have also made a move, but it looks like the offer is not satisfactory neither to the Beneamata, nor to Mario.
There is a bigger issue: Inter want to sell, and want to do so at a price not lower than €26.7 million so as to avoid posting a loss.
It's unlikely to see this happen in the next 24 hours - the Turkish window closes then too - which is why the talk has turned to getting a loan with obligation to buy.
The club buying Joao Mario would, therefore, have to guarantee at least €18.1m (amortisation has been factored in) to Inter.
The final option would be a straight loan, like what happened with West Ham last season. Mario would not be on Inter's wage bill (he earns €5m a year), but he would once again have to go through this process upon his return.