Expansion team wins championship in first season, immediately folds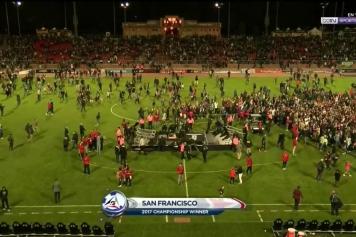 13 November at 15:15
The San Francisco Deltas completed their ending to a season worthy of Hollywood by winning the North American Soccer League championship last night. The victory came as a complete shock considering 2017 was the expansion club's inaugural season. It will also be its last.
Prior to the conclusion of the NASL season, San Francisco announced that they would not be able to afford a second season, and would fold as soon as their campaign ended. So, as it turns out, the victory last night will be the final match the club ever plays.
Adding to the magical storyline, the Deltas defeated the two-time defending NASL champion New York Cosmos, who were seeking their ninth championship.
The scenes from the stadium were incredible. After the Deltas scored an insurance goal with the final kick of the match, all ~10,000 fans stormed the field to celebrate with the players, who will forever be eternal champions.