Milan: Fassone hits back at Raiola over Donnarumma; "I think this is more the decision of the agent"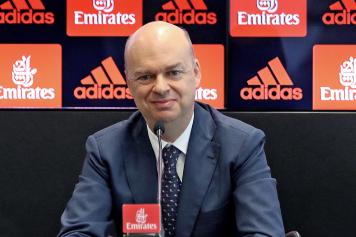 19 June at 13:55
Milan CEO
Marco Fassone
has hit back at super-agent Mino Raiola over the refusal by
Gianluigi Donnarumma
to sign a new contract with the club. After Friday's news that the 18-year-old goalkeeper would not be renewing his current deal beyond 2018 and following on from
Sunday's press-conference arranged by Raiola
, Fassone spoke to
Sky Sport
this morning.
He began by explaining that; "I don't believe we were wrong in this deal, we have been consistent. We have always said the same thing to Raiola and we have made an important offer and shown that we want Donnarumma to stay with us. But I do not believe it's a nightmare, because things like this happen in football. We are disappointed true; because we think he's the right person for Milan to build the squad around".

When asked if the door had been permanently closed on the youngster Fassone replied; "Everytime I have spoken to Gigio he has told me that he wants to stay. I think this is more the decision of his agent. I heard his press-conference yesterday (Sunday) and at this moment our player should be left alone to concentrate on the Under-21 championship."

"There are always possibilities but I don't want to have players in the squad whose contracts are expiring and this applies to all players, not just Donnarumma". He was then asked about Raiola's comments on sporting director Massimo Mirabelli and his "attitude problem". Fassone declared that; "Raiola is the first to accuse Mirabelli of having a threatening attitude. Massimo does everything for the good of Milan. If Gigio was the subject of threats then I dissociate myself with this and will state once again that we will do everything we can for the player".