FIFA 19 unveil 'fourth' jersey of Juventus, Real Madrid, Man United and Bayern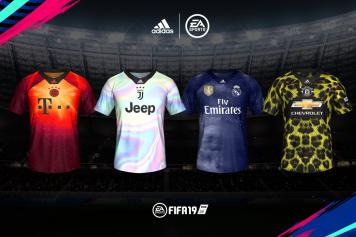 29 November at 17:00
EA SPORTS and Adidas are looking to enrich teh experience of FIFA 19 for gamers. To achieve this, the company has unveiled special jersey created in a limited edition for the four most prestigious clubs in the world.
For the first time the EA SPORTS jersey of Juventus, Real Madrid, Manchester United and Bayern Munich will be available both in virtual versions in FIFA 19 Ultimate team, as well as in real Adidas stores and in some official stores of the respective clubs.
The 7,000 special jerseys are made of soft, breathable fabric that guarantees maximum comfort on both the real and virtual FIFA 19 fields. Each of teh four jerseys is inspired by the character of the clubs involved - Juvenuts, Real Madrid, Bayern and Manchester United.
Click on the gallery to see what each jersey represents with regards of the character of the respective clubs.