FIFA rebuke Maradona for unhinged England comments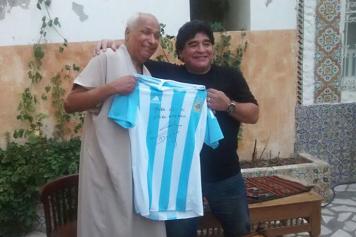 05 July at 16:05
FIFA have condemned Diego Maradone for his recent comments about England - Colombia.

In a game rich in all sorts of antics, the Argentine added some of his own in the post-match, telling a Venezuelan channel that the English had come up with "a monumental theft."
Quite what the Argentine means is difficult to establish, seeing as both sides got hot under the collar.
The World Cup winner back in 1986 looked bad when he posted footage of himself insulting the Three Lions during the penalty shootout which decided the game, which England won 4-3.
The Argentine also joined Radamel Falcao in questioning the referee's skills… based uniquely on the fact that he was from the United States. Very scientific!
"FIFA is extremely sorry to read such declarations from a player who has written the history of our game," FIFA said in a statement.
Maradona has had quite the tournament, needing to be taken to hospital after Argentina qualified to the Round of 16 by the skin of their teeth against Nigeria.