Fiorentina captain Davide Astori dies, aged 31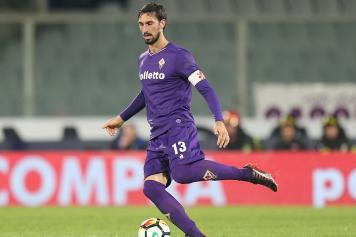 04 March at 12:10
Fiorentina captain Davide Astori has died, the Serie A club announced through their official website.
"We are deeply shocked and forced to communicate that our captain Davide Astori
has died due to a sudden illness."
"For the terrible and delicate situation and out of respect for his family we make an appeal to every football personality."
The causes of Astori's death are still unknown. The player was found dead in Fiorentina's Hotel 'La di Moret' and today's Udinese-Fiorentina has been cancelled .
Astori had 109 appearances with Fiorentina and 179 with Cagliari. The talented centre-back had 14 appearances and one goal with senior Italy national team and four appearances with the
azzurri
U18 squad. Astori played 289 games in Serie A.
The 31-year-old was a product of AC Milan academy. He had played with Pizzighettone, Cagliari and Roma before moving to Fiorentina in summer 2015.
More updates coming up shortly