Fiorentina forward's agent in Milan to discuss options with Rossoneri chiefs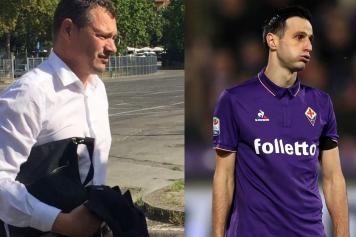 07 July at 21:41
As reported by CM.com's Alessandro di Gioia, there are new contacts between Erceg and Mirabelli. Kalinic's agent has reiterated the will of his client to wear the Rossoneri shirt and asked for clarifications about rumors regarding interest in Aubameyang. Milan now wants to close the events involving Donnarumma and Biglia but reiterated the strong consideration that Montella has for the Croatian striker.
Milan jumps for Nikola Kalinic. The agent of Fiorentina striker Tomislav Erceg is in Milan to meet with Rossoneri chiefs. The Croatian pushes for a goodbye to Fiorentina and for a new adventure in the San Siro, while the Viola club insists on 30 million EUR for their attacker.
NEW CONTACT - Milan hoped to close the deal at 25 million EUR, but Fiorentina did not bother with this request. Kalinic has asked for a four year deal for around 3 million EUR plus bonuses per season, but Milan does not want to climb over 2.5. For now both clubs are still negotiating, and soon there may be a new meeting.
adapted and translated by David Baleno (@davidbaleno)