Five Questions Going Into Second Month of Transfer Window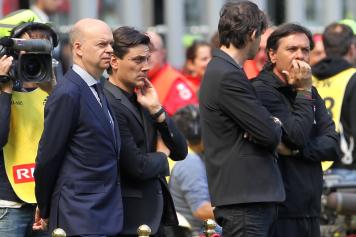 27 June at 15:30
The first month of the summer transfer window in Serie A had as many exciting story lines as a season of "Game of Thrones". We saw Milan sign four significant players before dealing with the Gigio Donnarumma soap opera, Roma sold Mohamed Salah, Juventus splurged on Patrik Schick while Inter addressed the chaos within their management team by hiring both Walter Sabatini and Luciano Spalletti.
Can we expect the fire works to continue? You betcha, so let's preview the main story lines for July by looking at some key questions for the top teams, starting with the defending champions who are still dealing from the hangover that came from the loss in Cardiff…
Will Juve lose a significant player for third summer in a row?
In the past few years, the middle of July has been as shocking for Juventus fans as the "Red Wedding" episode of "Game of Thrones". Almost exactly a year after Antonio Conte abruptly resigned as the bianoneri's coach, the news that Arturo Vidal would be leaving Turin to sign with Bayern Munich (if you were a cynical person you would say both those events happened after the season ticket campaign ended) emerged, shortly after King Arturo joined the Bundesliga champions.
Although the Pogba deal didn't become official until August, the reports on his departure intensified in the middle of July- so to me the main question for Juve isn't so much who will they sign, but rather if this will be the third summer in a row they lose a key player.
This year the Juventus player who is garnering the most interest is Alex Sandro, which isn't surprising when you consider how few quality left backs there are. Chelsea is ready to spend a fortune on him, and now the question is will he follow in Pogba, Vidal and even Tevez' footsteps and push to leave Turin- should that happen, odds are Juventus would let him go.
​Juventus has to now start asking themselves if they want to keep being known as a selling/transient club. Since Vidal was sold the club's revenues have grown dramatically, and in two of the past three years they were the club that earned the most from the Champions League. We all know that if Alex Sandro is sold, Marotta will say he wanted to leave and we don't keep unhappy players- but after while you have to ask yourself if Juve needs to do more to ensure that players like him and Dani Alves want to stay no matter what.
Is Milan building a squad suited to a 3 5 2 formation?
The reports that Milan are ready to invest substantially on Nikola Kalinic even after signing Andre' Silva made me wonder if Mirabelli and Fassone are working with Montella to build a squad with the ability to play with a 3 5 2 formation.
As much as Milan has shown willingness to spend considerably this summer, I have a hard time believing they would invest close to 30 million euro on a 29 year old striker to have him sit on the bench, especially when they already have a very adequate backup in Gianluca Lapadula. Montella has also previously used the 3 5 2 formation at both Fiorentina and Sampdoria, and Ricardo Rodriguez can play as both a left wing back and a central defender in a three-man backline and Jack Bonaventura can always move back to the midfield.
In addition, Milan is close to signing Andrea Conti who also has experience playing in that formation. There have also been a lot of reports in Milan's inability to reach an agreement with Suso on an extension, and if he's sold Milan would potentially lose their two starting wingers from second part of last season since odds are Gerard Deulofeu won't be staying with the rossoneri.
Does Raiola know what he's doing when it comes to the public relations aspect of the Donnarumma saga?
No.
Can Inter get their mojo back after losing out on Rodriguez and likely Manolas?
The best period Inter had in recent years was right after the January window. The team started a substantial winning streak back then under manager Stefano Pioli, director Ausilio had hit a home run by signing Roberto Gagliardini from Atalanta and it looked almost certain that the club would sign Kostas Manolas and Ricardo Rodriguez during the summer…
Now fast forward to a few months later, Stefano Pioli has been sacked, Ricardo Rodriguez has joined crosstown rivals Milan and now Kostas Manolas appears close to joining Zenit, who (wait for it) is now being managed by former Inter coach Roberto Mancini. The nerazzurri have been linked to players such as Rafael Toloi and Armando Izzo, and are ready to invest substantially in Milan Skriniar, who while being a highly touted prospect previously linked to Atletico Madrid, isn't a very sexy addition.
The good news for Inter fans is that once the final Financial Fair Play hurdle is past on July 1
st
, the club is expected to be able to spend substantially. They also might be able to keep Ivan Perisic after all since they could sell Banega, Jovetic and others instead- but even with the Croatian winger staying, Inter will have to make a few big moves to get their mojo back.
How many more key players will Roma lose this summer?
There's no team going through a bigger transformation in Italy than the giallorossi. After Francesco Totti's retirement and Luciano Spalletti's departure, the giallorossi sold Mohamed Salah to Liverpool and both Kostas Manolas and Leandro Paredes appear ready to join Roberto Mancini at Zenit.
​Make no mistake about it, this is becoming Monchi's Roma. The famous sporting director will now be able to reinvest part of the proceeds from these sales while also not having to deal with the distractions of the questions on Totti's role on the squad. While Roma is likely to be without two of their best players in Salah and Manolas, they will still likely be able to keep Radja Nainggolan, Kevin Strootman and Edin Dzeko to go with the players Monchi is bringing in- after Hector Moreno, Feyenoord's Rick Karsdrop is expected to be next.
Why is Napoli so inactive on the transfer market?
The main storylines with Napoli this summer have so far revolved around Pepe Reina and their goal keeper situation. While the partenopei could keep the former Liverpool keeper to serve as a veteran mentor to a young keeper like Alex Meret, their lack of activity for other players is a sign their main focus this summer is to keep what they have since their team has so many young players with the potential to improve.
Napoli signed Lorenzo Insigne and Dries Mertens to extension and having a fully healthy Arkadiusz Milik would almost feel like a new purchase. Napoli could also work with Liverpool on deals involving Faouzi Ghoulam and Alberto Moreno, as an alternative the partenopi could look to reunite Mario Rui with his former manager Maurizio Sarri. Napoli will likely make more investments on the transfer market should they get past the preliminary round of the Champions League and have the guaranteed revenues that comes with being in the group stage.