Florentino: I will never sell Ronaldo, even for his weight in gold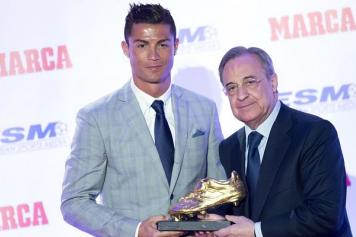 07 August at 18:59
Real Madrid have confirmed that they will never sell Cristiano Ronaldo. Or, rather, current president Florentino Perez has.
"Sell Cristiano? Never," the chairman said (
via the Gazzetta
) as the Portuguese star returned to training.
" I wouldn't sell Cristiano even if they payed for his weight in gold.
"Only great players obtain large crowds," he continued.
The Portuguese sensation was linked to a potential departure, even a return to former club Manchester United this summer.
He was reported to have told his team-mates that he wanted out because of tax problems.
Ronaldo was recently in court because of the alleged dodging of
€ 15 million.
"I've never had problems in England, that's why I'd love to go back there", Ronaldo added in court.
"When I moved to Manchester United I was told that it was the best way to manage my image rights. Every footballer does it. I demanded to pay something more because I did not want to have any problem," he continued.
@EdoDalmonte