Focus: Berardi's disappearing act continues as he is spotted in Roman clinic | Emanuele Tramacere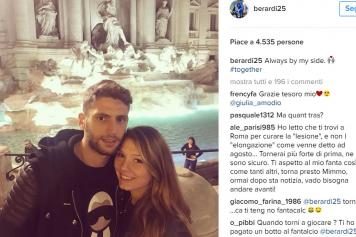 07 November at 14:43
What the heck has happened to Sassuolo? Having beaten Crotone a month ago with a last-gasp Pietro Iemmello goal, the Neroverdi have gone on a six-game winless streak, including three defeats.
A lot of this owes to the Emilian side's maiden Europa League season, as well as their inability to deal with the absence of Domenico Berardi.
The talisman went down with what looked like a harmless collateral ligament strain against Pescara… only to never return, despite being expected to go on a three-week layoff.
That was in late August, a whole 70 days ago. Even cute pictures of the Calabrian winger visiting Rome with girlfriend Francesca Fantuzzi come with a snag: the 22-year-old was also there to be checked up by a Roman clinic,
something reported by the Gazzetta di Modena.
As little as five days ago, Coach Di Francesco confirmed that Berardi's return "is impossible to define at this time".
Time to worry?
Emanuele Tramacere, (@TramacEma), adapted by @EdoDalmonte