Former coach of Emre Can reveals what may have influenced decision to join Juventus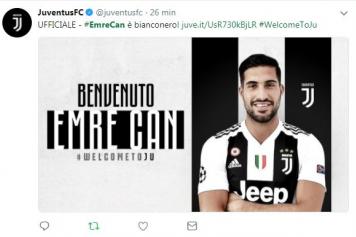 24 June at 14:25
Toni Magliarisi smiles at the arrival of Emre Can at Juventus. This Italian immigrant in Germany was one of the first coaches of the German midfielder and now, on the pages of La Gazzetta dello Sport, tells the former Liverpool talent: "I still have goosebumps, if I think about it I fill my eyes with tears".
On Del Piero and Juve-he was raised in the Juventus myth, with Del Piero as a reference. I told him: 'Look at him, you have to kick like him'. In my house he has always seen a shrine dedicated to the Lady: for those like me Juve represents the Italian sentiment, the link with the origins. I like to think that, almost unconsciously, I transmitted this attraction to him."
"I was the second coach of a team in the area called SV Blau-Gelb. My superior did not want to take Emre because he never passed the ball ... After the second training they gave me the responsibility and I immediately said: 'If he remains here, he will become a phenomenon'.
"It goes beyond football. I am an immigrant like his father and his mother from Turkey"
On joining Juve- "He always knew that if he went to Juventus, I would have been the happiest man on Earth, but I told him that he had to make the best choice for his career, so never go to Inter ... Seriously , last year I told him that he was not ready for Juventus, now he is 110%>"
Follow World Cup and transfer news here