From pizza to Ibra: how Mino Raiola became a premiere agent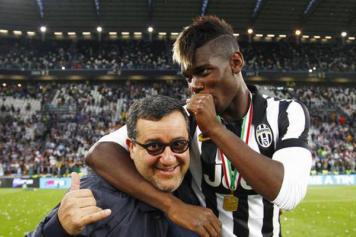 04 October at 17:15
High powered soccer agent Carmine "Mino" Raiola's route to success reads like the quintessential rags-to-riches story. He wasn't born to a wealthy or powerful family. He didn't attend a prestigious school, nor did he seek out a life of fame and fortune. It all began with a love of soccer, some pizza, and, as any success story, a bit of luck.
Raiola's first job was working in his family's pizza restaurant in Haarlem, Holland. Now, he's one of the most successful soccer agents in the world. With clients like Zlatan Ibrahimovic, Mario Balotelli, Romelu Lukaku, Marco Verratti, and Paul Pogba, it's difficult to compare many other agents to him.
After being born in Salerno, Italy, Raiola's family emigrated to The Netherlands and opened an Italian restaurant. Oftentimes, Dutch and Italian businesspeople met at the popular pizzeria for lunch. When it came to speaking about business, not all the customers spoke each others' languages. Fortunately, Mino Raiola spoke both and served as an intermediary.
He started his own mediation company, Intermezzo, and served as a link between the two countries. Suddenly, he became the premiere link for soccer agents from the respective countries. His big break came when he helped bring Dennis Bergkamp and Wilhelm Jonk to Inter Milan for 25 billion lire.
Now, as a soccer agent, his client list is worth hundreds of millions of euros across multiple continents. That he speaks seven languages has helped him gain clients across 115 separate countries. But, as rags-to-riches stories go, it all began with a need and one's determination to fill it.
Matthew Klimberg