From Pogba to Vidal: football stars pay tribute to Barzagli after last home game with Juve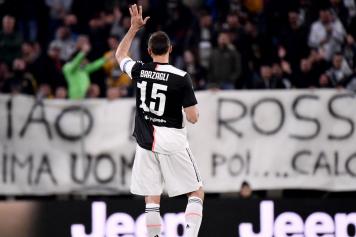 20 May at 15:45
Andrea Barzagli played his last home game with Juventus last night. The Italian defender arrived in Turin in January 2011 and won all the eight scudetto in a row and is set to retire at the end of the season.
Barzagli was honoured by Juventus before the kick-off at the Allianz Stadium last night (
WATCH
) and left the pitch in tears in the 60th minute when Max Allegri subbed him off to allow the Stadium to give their no.15 a well-deserved standing ovation.
Many players have shared a message on social media to honour the experienced centre defender who has won 16 trophies with Juve, one Bundesliga with Wolfsburg and the 2006 World Cup with Italy.
A lot of his current and former team-mates had a thought for Barzagli including Barcelona star Arturo Vidal and Man United's Paul Pogba. The Frenchman was in Turin last night to attend the party of his ex-team-mates
(WATCH)
.
Watch all the messages for Barzagli in the gallery