From UK: Chelsea and AC Milan will finalize Higuain-Morata swap deal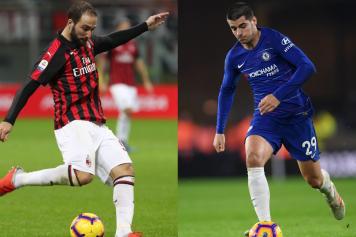 05 January at 18:20
According to The Sun,
Chelsea and AC Milan will finalize the swap deal involving Gonzalo Higuain and Alvaro Morata.
The Blues' boss Maurizio Sarri is a long time admirer of the former Juventus star who scored against Spal in the last weekend action in Serie A.
According to the British tabloid the two clubs are close to finalizing the agreement that will see Morata return to Italy after a two-year spell at Juventus while Higuain will reunite with the manager who made him become the best goalscorer in one single Serie A season. In the 2016/17 campaign, Higuain scored 36 goals in Serie A, a record that no one has ever managed in Italy's top flight.
Speaking about the possible swap deal between Higuain and Morata, both Gennaro Gattuso and Maurizio Sarri claimed that it will be very hard to finalize the deal in the current transfer window. Despite that, the British tabloid claims that the deal between Chelsea and AC Milan will be finalized soon.