Frosinone-AC Milan 0-0, ratings: embarassing Higuain, Donnarumma MVP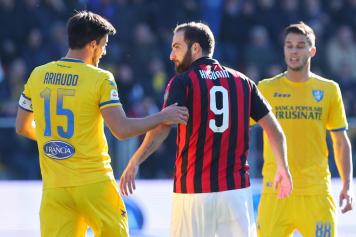 26 December at 16:18
AC Milan are held to 0-0 draw away at Frosinone, these are the ratings of Calciomercato.com:
Donnarumma 7 – Probably the best player on the pitch, he saves the result in the final minutes with a save on Ciano.
Calabria 5,5:
He doesn't attack too much (74'
Laxalt 5:
the confirmation of a flop
)
,
Musacchio 6:
He wins almost all the challenges on Pinamonti
Romagnoli 5,5:
Runs too many risks in the first half
Rodriguez 5,5:
A positive performance almost ruined by a serious mistake in the final minutes
Kessie 5,5:
He misses a big chance after an assist of Calhanoglu, looks tired.
Bakayoko 6,5:
Not too bad compared to the others
Calhanoglu 4,5:
He changes his position four times, he always walks and never runs.
Castillejo 5:
The first 20 minutes are good but he is not smart tactically and he should pass the ball more times. (74'
Conti 6:
He tries to give depth to his side)
Higuain 4,5:
The goal that he misses in the last minutes is the picture of an embarrassing performance.
Cutrone 5
: He does work hard but he never creates any trouble.
Gattuso 5:
AC Milan fails to score for the fourth successive game. It's the first time since 1984.
Ringhio changes system several times but he never finds the right one.
Frosinone:
Sportiello 6.5; Goldaniga 6.5, Ariaudo 6.5 (75' s.t. Salamon 6), Krajnc 6, Ghiglione 7 (72' Zampano 6), Chibsah 6, Maiello 6,
Crisetig 6, Beghetto 6.5, Ciano 7, Pinamonti 6
(79' Ciofani s.v.). Coach: Baroni 6.
Daniele Longo, translated by Lorenzo Bettoni