Furious Allegri hits back at De Laurentiis: 'You can't buy education'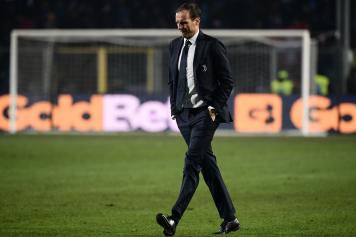 26 December at 17:28
A furious Massimiliano Allegri spoke to Sky Sport after Juventus' 2-2 draw against Atalanta. The Old Lady saw Rodrigo Bentancur being sent off in the second half and Allegri wasn't happy for Banti's decision: "Red card? It's better to speak about the game, I am really upset today. I never speak about referees. Banti's performance was good, the problem is that there is too much talking also from directors and chiefs of other clubs. Today I am more nervous than usual. In Italy we will never improve, not even with commitment".
Napoli President Aurelio De Laurentiis spoke about the referee of Inter-Napoli yesterday saying that the referee had been 'bad and not neutral' when he refereed Napoli in the past.
"It's not nice and elegant to do some statements. I never talk about referees. We must educate the fans. On Saturday [when Juve faced Roma] the game remained level for what? I am asking you. The referees in Italy are the best ones in the World. More educations and elegance are needed. But you must have it, you don't buy it".
"When there are clashes between fans then we are always sorry and we complain, but we must give them the right example".
"I am sorry for Italian football. In general, nobody wants to improve our football. It's a pity because today it was a great game of football. Probably nobody wants to improve, especially for the future".
"The team played well in the first half, we conceded the first half with their first chance. We knew it was a difficult game. It's a good result against a very good team".
"Emre Can played a good game, the lads played well. I am sorry because we wanted to win. We need to prepare the Sampdoria game very well".