Gabriel Jesus: I'm only getting back to my best now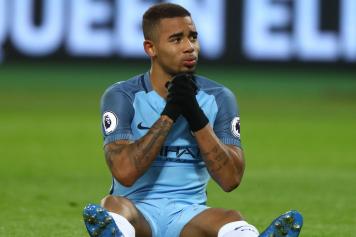 17 May at 14:15
Gabriel Jesus has had a difficult twelve months, and says that it's been a long road back to form.
The teenager has managed 17 goals in all competitions this season, despite nearly skipping three months because of injury and only returning in late February.
Yet the Brazilian, who was called up by his country for the 2018 World Cup and is expected to start alongside Neymar and Philippe Coutinho in Russia, claims that he's only getting back to his best now.
"I am very self-critical and always will be. I think this makes me want to improve, always," he told ESPN Brazil.
The teenager went down towards the end of last season with a cruciate ligament tear, putting an end to a very promising start at Manchester City.
"But just because I'm self-critical and say what I thought of my performance in a game, it doesn't mean I will bring myself down, ever. This is a point that just makes me improve. If I see that I didn't do well, I am going to want to get better, always. This only helps me out," he added.