Gallery: From Florenzi to Dybala - All the messages of support for Zaniolo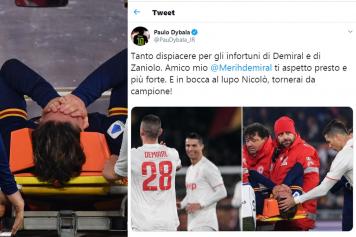 13 January at 13:20
Tears that hurt. To Rome and beyond. Nicolo Zanioli's ACL tear left bitterness and pain in all Italian fans: the tears of the Roma starlet when leaving the pitch is an image no one would like to see, given his huge potential.
In addition to his season being over, now, inevitable the Euros are in doubt. Immediately the world of football tightened around the Giallorossi midfielder. From the Italian national team, with manager Roberto Mancini, to the teammates of Roma and also some opponents.
Take a look at our gallery to see some of the messages of support.