Gattuso: 'Cutrone and Higuain will start. On Ibrahimovic and Montella...'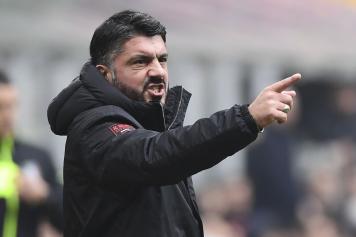 08 December at 15:15
AC Milan coach
Gennaro Gattuso spoke to the press
on the eve of his team's match against Torino at the San Siro in a press conference.
"Torino? It is no coincidence that they are unbeaten away. They combine technical and physical strength. They have a well-prepared coach and are difficult to deal with. Tomorrow will be a very demanding match," he said.
"Higuain and Cutrone will play together. Let's do everything to make them play together. It is not a problem of how many men play up front, there must be a balance. The important thing is to smell the danger, make yourself available and not how many men will be in the attack.
"I expected to be us so close to the Champions League. When there is desire and calmness, everything can happen in sport, especially in the world of football. After the injuries, I saw a different air but the players made themselves available and the group was compact.
"Higuain? When everyone thought he is nervous, he was joking inside the locker room. For us he will never be a problem, he is a champion and can play football. He must concentrate on performing well, helping the team and the team must help him, the goals will come.
"Montella? I have nothing to say, I think of the matter in my way. My cartridge is fired, I cannot respond to all attacks. Juventus-Inter? I saw a great Inter, they play great football. We must think of ourselves. Inter impressed me but Juventus are scary.
"Romagnoli and Musacchio? They started running. We are on the right path. Musacchio is a little ahead. The fact that they started running is an important step.
"Ibrahimovic? I do not know anything. There are Maldini, Leonardo and Gazidis, these are questions for them. I have to think of mine, like Borini, who has an ankle problem.
"Paqueta? He will arrive tomorrow, stay with us and do some tests and then be ours from early January. He will come and see the city, future house and I'll talk about him when his arrival is official. Bakayoko and Calhanoglu? A player can always improve. Bakayoko has great qualities. Hakan can do more, I also have some guilt because I made him play even when he was not well," Gattuso concluded.