Gattuso: 'Ibrahimovic? Talk to Leonardo'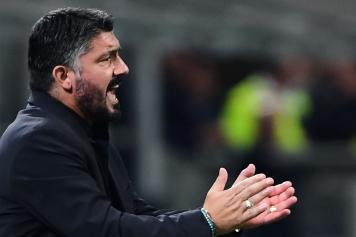 06 October at 17:15
Winning helps to win. Gennaro Gattuso knows this well and he will want his Milan to give continuity after the last two victories obtained against Sassuolo and Olympiacos.
The Rossoneri coach spoke to the media
today ahead of tomorrow's challenge against Chievo.
"The goal is to win, to bring 3 points home. On paper, it seems like an easy game, but it will not be so. Chievo is not going through a good moment, but they are prepared from the tactical point of view. It will be an important match," Gattuso said.
"I hope Calhanoglu will score against Chievo again. He has ten goals in his feet, we have to put him in shooting positions. He has experienced difficult moments at the family level, now he is feeling love on our side.
"San Siro? Except The enthusiasm is there. We have an average of 45,000 spectators and we have to have a good performance and give continuity of results.
"Cutrone? He must be proud of the national team call-up, for the age he has. But in fact, he is still not fully fit so he must present himself at training and then Mancini will choose.
"I am happy Castillejo did well against Sassuolo, Laxalt as well. Bakayoko has to be helped, he is doing a bit of effort. I am very happy with the players I have, we can all do something extra.
"Higuain and Reina? They are important figures. They represent professionalism. Ibrahimovic? You have to talk to Leonardo I cannot talk about players that are not a part of my team.
"Rodriguez is playing well. He is now calmer at a mental level. I am happy with everyone. Borini has different characteristics from Calhanoglu, for example. Castillejo prefers to play on the right but we have Suso and they both have different characteristics as well.
"A striker in January? I would like many things in my life but at times you have to be satisfied. I cannot lose energy thinking about January. There will be a moment when we will sit down with the management and see what we can do," Gattuso concluded.