Genoa, Juric is sacked as Mandorlini replaces him, the latest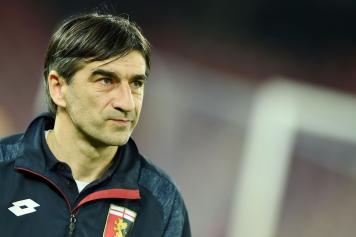 19 February at 22:51
23.54 - JURIC OUT, MANDORLINI IN
- Genoa released a statement saying that Ivan Juric was released of his duties and Mandorlini will be coming in to replace him as Genoa's coach.
21.27 - JURIC'S POSITION IN JEOPARDY - According to
Calciomercato.com
sources, Ivan Juric's adventure as Genoa's coach is almost over. Enrico Preziosi has already had contacts with Andrea Mandorlini who recently rescinded his contract with Verona. Other than Mandorlini, De Canio, Reja and Stramaccioni are the alternatives.
21:00 - THE FANS ARE UPSET - Over 300 Genoa fans were present at the airport as they were waiting for the players to arrive. In the end, the Genoa players had to use a secondary exit. The Genoa bus was attacked and spit on as fans even threw eggs at the bus.
Genoa's defeat to Pescara by a 5-0 score was a very heavy defeat for the team and the fans to swallow. Many of the present Genoa fans left the stadium at half-time in Pescara. Juric's position is now in heavy doubt as their could be some changes that occur very soon . It is now up to president Preziosi to decide....
Jean-Luca Mascaro (@CalcioNews89)