Genoa, Piatek: "For me, Ronaldo is the best"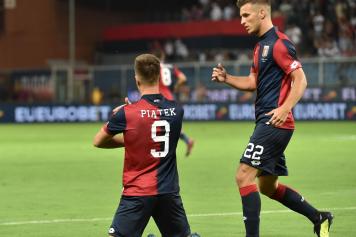 18 October at 19:12
Genoa striker Krzysztof Piatek has been on fire of late for both Genoa and the Polish national football team. Piatek, who is the current Italian Serie A top scorer, has attracted the eyes of many big clubs including Napoli, Juventus, Inter, Milan and Real Madrid just to name a few. Genoa will soon be taking on Juventus in the Italian Serie A as Piatek had this to say to the press:
"Future? At this moment in time, I am fully focused on Genoa and our next game against Juventus. We know that it won't be an easy game for us since Juve are the best team in Italy. Even so, we will give it our all and we will try and get a positive result. Szczesny? We are teammates with the Poland national team so we know each-other pretty well. I hope to face him on Saturday, this would be fun for both of us. Ronaldo? For me, he is the best player in the world right now. I would even say that he is the best player in the history of the game. Genoa? As I've said, I love the team and the fans. I am fully focused on Genoa. We want to be ready for this game against Juve...".
For more news on the matter, you can click on our gallery section right here on
Calciomercato.com.