Germany's Manuel Neuer admits his career remains at risk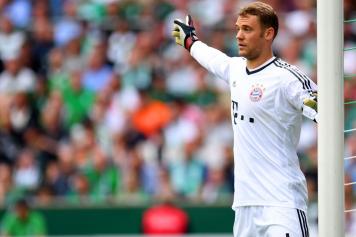 24 March at 15:25
German goalkeeper Manuel Neuer will certainly be feeling the pressure to return as an injured foot has had him sidelined since mid September. Friday's news that he ran on the treadmill for the first time in months has him cautiously optimistic that he can return to the field for both Bayern Munich and the Germany national team soon. He even hinted at a potential return to outdoor training as early as next week.
"It's been a great day, an emotional day, because I ran at 100 per cent three times for five minutes for the first time," Neuer relayed to Bayern Munich TV.
The star goalkeeper has actually been playing with a metal plate in his foot for nine years and in September had a second inserted into the other foot after a fracture. Any other injuries could have detrimental consequences to his career moving forward.
Neuer stated, "It's really important that nothing happens to my foot now. Otherwise it could put my career at risk. I am confident and I think I will return to my old strength."
Germany boss Joachim Löw recently spoke about Neuer's situation, saying that "if a player can't participate and plays no part whatsoever in the build-up to a World Cup, it's difficult to include him."