Giovinco: Frustrated by Ventura, 'I refused Barcelona'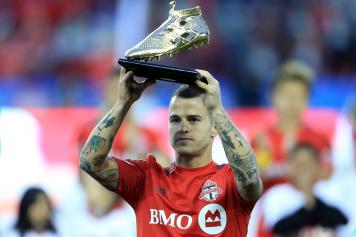 17 October at 15:15
With missing the 2018 World Cup a terrifying but real possibility, you'd think Italian National Team manager Gianpiero Ventura would call the most successful, and in-form, Italian players from across the world. However, arguably the most dominant striker has been repeatedly left off his call-up sheets.
While Major League Soccer developed a reputation as a 'retirement league' a decade ago, those who watch the competition regularly know it's now an unfair and outdated assessment. For those who partake in it, like Sebastian Giovinco, it's an ignorant and suffocating view.
Despite being one of the greatest players in league history, and a pioneer, the "Atomic Ant" continues to watch the national team he loves from the relative comfort of home. Despite battling, and emerging victorious, against players like David Villa (who played for Spain in their recent qualifying victory over Italy) for the MVP award, he continues to be ignored by Ventura.
He
spoke
to La Gazzetta dello Sport and made it clear decisions back home frustrate him in North America, where he led his club, Toronto FC, to the Supporters' Shield in a record-setting campaign.
"I like it here and I enjoy it. I'm peaceful, but when I see the Champions League or Serie A every now and then, I think I can do it, especially since I have refused Barcelona."
In the words of his agent Andrea D'Amico, "I find absurd that Ventura does not call him. Giovinco knows how to score in all ways. He is a protagonist in MLS."
Giovinco also spoke of Toronto FC's season and his relationship with manager Greg Vanney. "He says I'm one of the best in MLS history. He is also part of it. I'm glad I did have a big impact on this league but I think of Villa and Kaka. If they came when they were younger, people would not be discussing me."
"In the meantime, we have won the Supporters' Shield, that is, we did more than anyone else in the regular season. If we were in a European tournament, we would have won the championship. Instead, there are playoffs. We have to win the trophy, and redeem the bad experience of last year in our stadium, in front of our fans. It leaves a double gloom. It was like going to Rome and not seeing the Pope."
On how MLS has transformed in his three years there:
"There is no doubt that it has grown up. It is not yet the same as the most noble European tournaments, but it depends on the desire and the commitment that is being made to us. It's excellent quality soccer."
He went on to say that he thinks Toronto, if they were playing in Serie A, would avoid relegation and finish mid-table.
Matthew Klimberg