Giovinco shows determination, thoughtfulness in open letter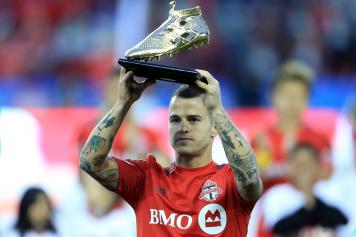 05 October at 16:30
Toronto FC, and MLS, superstar Sebastian Giovinco has put together a an open letter to his North American fans. Last week his club locked up the Supporters Shield with six matches remaining, and are nine points ahead of New York City FC in second place. Now they have their sights set on a long playoff run to MLS Cup.
Writing for The Players' Tribune, the "Atomic Ant" opened up about his, and his club's, goals for the playoffs. "I've been in Toronto nearly three years now, and there are two things I still have yet to see. One of those things is Niagara Falls. And I'll get there, eventually. But first, there's something else [I[ want to see. That I need to see. And that's Toronto FC winning the MLS Cup."
He continued, "We got pretty close last year, but getting close isn't good enough. I'm from Italy and I played most of my career there. And in Italy we have this saying, It's like going to Rome and not seeing the Pope. I didn't come all this way to not see Toronto to win a championship. That's it."
The full letter from the former MLS MVP can be found
here
.
Matthew Klimberg