Giovinco will not be called up for Italy WC playoffs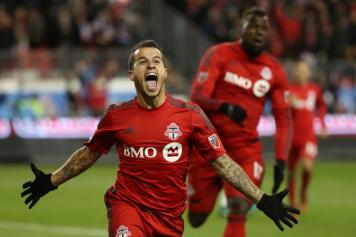 29 October at 18:30
On November 10th and 13th, Italy will take part in a two-legged playoff with Sweden for the right to go to Russia for the 2018 World Cup. Despite injuries to his squad, Gian Piero Ventura is unlikely to pick Toronto FC superstar Sebastian Giovinco.
The former Juventus striker has dominated MLS since his arrival in 2015. He was even part of Antonio Conte's squad which qualified for the 2016 European Championships. However, since he played in those qualifiers, he has yet to be called up to represent his home country.
Fans across North America have been perplexed by his lack of inclusion into the squad, and have cited the reputation of MLS as the main culprit. While it's reputation as a lower-level league certainly plays a role, his lack of call ups have more to do with a lack of space on the Italian roster.
Ciro Immobile and Andrea Belotti – when healthy – are the unquestioned leaders up top for the Azzurri, and are untouchable. Behind them sits Lorenzo Insigne, who's in scintillating form in Napoli, and Manolo Gabbiadini of Southampton.
Even without Belotti for the playoffs, other players stand in Giovinco's way. Zaza has enjoyed a white-hot start to Valencia's season and won the September La Liga player of the month award. Furthermore, Mario Balotelli has earned a return to the national team with his strong, but more importantly, consistent play for Nice. Also in front of Giovinco's path lies Ventura favorites Eder and Roberto Inglese.
There just isn't room for him on a very talented Italian roster.
Matthew Klimberg