Goalscorer wasn't expecting such a strong start to his Inter career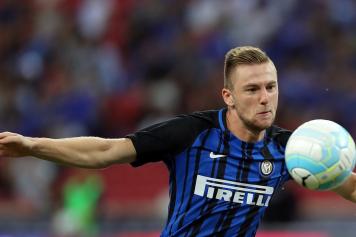 25 October at 16:35
Milan Skriniar wasn't expecting to make so much progress this season.
Signed for a massive €25 million, the Slovakian has fully justified the price, and is arguably the centre-back of the season so far.
The former Sampdoria man had the final laugh on Serie A fans, scoring again last night and allowing Inter to his ex side 3-2.
He was grateful towards Marco Giampaolo, who filled him with praise after the game, and also has the merit of starting him back in their Doria days.
"I'm happy with Giampaolo's words, I want to thank him. I grew a lot thanks to him," the defender said to Sky Sport after the game.
"Did I expect to start so well? I didn't even think about making such an impact. I want to help the team in every game, and if we win then we're all happy.
"What inspires me? I look at other matches. I'm happy because I've always worked under great Coaches. Spalletti's also helping me a lot.
"The player that inspires me the most? I'm happy for these compliments. From Italian football, I really like Koulibaly. He's very good with his feet.
"There's also Bonucci and Miranda. I can only keep learning."