Grading AC Milan's signings at the halfway point of the season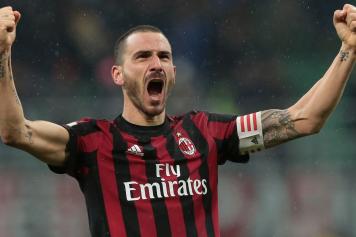 06 January at 09:00
Now that we're at the halfway point of Milan's season, it's worth taking a look at how all their summer signings have fared so far. With a quarter of a billion euros spent, many expected instant success from so many new faces. Needless to say, it hasn't gone as planned. Here are the grades for every single summer signing so far:
Nikola Kalinic: C-
Milan bought Nikola Kalinic from Fiorentina for over €20m and he was right away expected to be the established leading striker taking over for Carlos Bacca. While he's been undeniably hard working, he's lacked a clinical touch which has already cost Milan points. The misfiring Croatian has only managed four goals in 16 games so far and has looked low on confidence, often taking a beating in games from opposing defenders and not offering too much danger with his poacher instincts.
Andre Silva: C+
It's hard to think that Benevento's goalkeeper Alberto Brignoli has more Serie A goals than Silva, but that's exactly the case. Silva has been more successful as an Instagram model so far than leading the line for Milan in Serie A. While the man who partners Cristiano Ronaldo on the Portuguese national team has hardly sniffed domestic action, he's been prolific in the Europa League against lowly opposition, scoring eight goals in 718 minutes of action. You can tell Silva has the talent, as his first touch on the ball and technique is impressive. The biggest issue is how willing he is to sacrifice himself for the team, and whether or not he's a Gennaro Gattuso type player.
Hakan Calhanoglu: C-
The Turkish international came to Milan touted as a dead ball specialist and was given the historic no.10 shirt. While he can look decent in build-up, Calhanoglu too often slows down play and goes for the easier option rather than looking for the most difficult incisive through ball to really split the defense wide open. He's looked a bit out of his element playing out wide, where he doesn't have the pace to beat his man on the dribble. One hopes he'll be able to carve himself a spot as one of the three central midfielders in the 4-3-3, but at the moment Gattuso prefers other options.
Lucas Biglia: D
The former Lazio captain has been one of the poorest signings so far, and Gattuso's appointment has only made matters worse for him as the coach has preferred Riccardo Montolivo in the regista role right in front of the defense. The problem with Biglia in this system is that Bonucci's job in possession sort of negates what Biglia likes to do, which is drop in-between the two center backs and dictate the rhythm in the midfield. Unfortunately, Bonucci's role is often to gather possession and look for the deep ball, which essentially renders Biglia surplus to requirements. When Biglia has gotten time, he's looked sluggish and too mistake prone to be trusted in such a pivotal role.
Leonardo Bonucci: D+
Bonucci's signing was supposed to be the face of the new-look, lavish Milan. His decline so far since joining from Juventus has been truly inexplicable. Not only has Leo been error prone in distribution, which is one of his main strengths, but he's been wobbly in the defensive sector too. His man marking or lack thereof has been back breaking for the Rossoneri, and you get the sense that Milan's form will be directly tied to how well the defense can learn to play together.
Andrea Conti: N/A
Signed from Atalanta to be Milan's starting right-back. Unfortunately, injuries have temporarily put his Milan career on halt.
Mateo Musacchio: C-
Musacchio was part of La Liga's stingiest defense last year with Villarreal, but like so many of his new teammates, the form from previous years has failed to translate in Serie A with Milan. Musacchio looked a bit lost in Montella's 3-5-2, as he's accustomed to a back four. The positives have been his aggressive nature and pace. The negatives are that he now seems to be third fiddle behind Alessio Romagnoli and Bonucci under Gattuso. The talent is there, the question is whether he'll get consistent playing time to show it.
Antonio Donnarumma: B
From making the halftime espresso to starting in the Coppa Italia edition of the Derby Della Madonnina, and actually succeeding! Donnarumma's brother has been an easy target since things have gone sour for Milan, but his lone performance this season has been positive for the Serie B journeyman.
Franck Kessie: B-
The box-to-box presence of Franck Kessie has been a Jeckyll & Hyde rollercoaster for Milan fans. We've seen Kessie at his worst - the player that gives away possession in suicidal areas of the pitch and who rushes his decisions in key attacking situations. We've also seen Kessie at his best - when he's dominating the midfield with his strength, pace and aggression. Kessie grew up as a center back, so it'll take time for him to mature. There is plenty to like about the Ivorian, and more playing time is the medicine for his inconsistency.
Fabio Borini: B-
By the time Borini is 35 years old, he'll be playing as a goalkeeper. At least that's if the current trend continues, which sees the Italian move back in the formation with each passing season. He started as a striker at Roma, then adapted to a winger position with Sunderland, and finally a role as Milan's right wingback in a 3-5-2 system. This new position addresses Borini's weakness, which is mainly his lack of goal scoring. Hard work and energy can only go so far, as his lack of technique in the final third has made him frustrating if not goofily lovable at times for a Milan fan base that appreciates players who give their all. He now seems to be used sparingly as a winger in Gattuso's 4-3-3, but hasn't found much success in this position. Fine as a role player off the bench, but nothing more.
Ricardo Rodriguez: C
While his left foot can produce some pinpoint crosses, he's too often caught flat footed on the defensive end. He lacks pace and that can be problematic going up against all the tricky wingers in Serie A. That aside, he's been one of the consistent figures in Milan's lineup. His crossing ability and random goal make up for the fact that he can get punished defensively.
By Matteo Bonetti (@TheCalcioGuy)
Matteo Bonetti is a sports journalist for beIN Sports USA
MORE AC MILAN NEWS:
AC MILAN TRANSFER NEWS: LATEST SPECULATIONS ON DEMBELE
CUTRONE IS AC MILAN'S BEST SCORER IN 2017