Guardiola slams Spain PM over Catalan incidents, says Barca shouldn't have played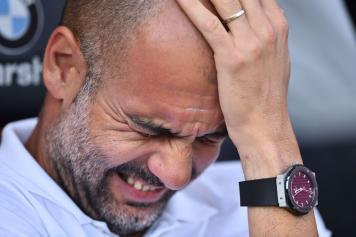 02 October at 13:30
Pep Guardiola has taken a shot at La Liga over last night's Barcelona game, saying it shouldn't have been played.

The Manchester City Coach says that he
"would not have played the Barca-Las Palmas game at all."
​Catalonia saw widespread violence last night, with over 800 people reportedly injured as a proposed independence vote was, in some places, brutally repressed by police in riot gear.
​Barcelona's game with Las Palmas went ahead as planned however, and in front of an empty Camp Nou.
"If you play that game, you play in front of the fans with all the consequences that come with it.
Guardiola then spoke of the situation in general, attacking Spanish prime minister Mariano Rajoy.
"There were over 700 people injured, those people who went to cast a vote, not to rob a bank!
"But Rajoy will not answer questions and will not listen, they have sent those 700 people of their own nation to hospital.
"The whole world has seen what happened. They have broken the fingers of a girl who had gone to vote and the only media outlets who will not explain the seriousness of this will be the Spanish ones.
"The international community has seen the pictures and videos, the Spanish media will not show them and I'm annoyed Rajoy has not spoken about those injured.
The former Barcelona Coach also praised defender Gerard Pique, praising him for being "a brave guy".
"Pique? You can agree with him or not, but Pique is a brave guy."