Handanovic: 'Tottenham one of Champions League top teams'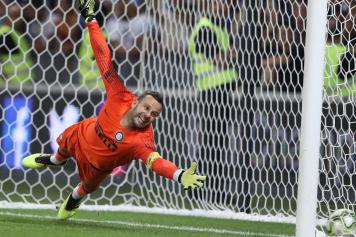 16 September at 10:55
Inter Milan suffered a shock defeat against Parma at San Siro. Dimarco's goal outdid the Nerazzurri as the lost 1-0 and slipped to 13th in the Serie A table. Talking to Inter TV after the game, Samir Handanovic analysed the match and said, "
We attacked throughout the whole match, without managing to score, and then we conceded. We have to do more in front of goal; things would have been different if we had scored but this is football, and on Tuesday we will have another chance
." The goalkeeper went on to say that they need concentrate on their upcoming fixtures. "We need to find the fire inside ourselves to overcome this moment. We reaped far less than we had sown but I don't believe in chance."
"We have to reset immediately. We all want to win and to do something more, but we have to take notice." added Handanovic. However, Handanovic was not willing to digest the goal he conceded very quickly. He made it clear that a Parma player was offside and standing in line of the shot. The goalkeeper claims that this made it very difficult for him as he did not see the ball when the shot was taken."
The Slovenian also added that Inter were denied a clear penalty and said, "I didn't see the shot
taken, I had a Parma player in front of me. So for me, the goal should not have been allowed. I have nothing more to say as we are not looking for excuses.

However, those who are up there have to see what is happening.
Also, we didn't get a clear penalty " Talking about the upcoming Champions League fixture against Tottenham, the goalkeeper said, "I don't know what emotions I will feel against Tottenham in the Champions League, we will see. They are one of the top teams in the competition, so we have to prepare ourselves well."