Has the Italian football revolution already begun?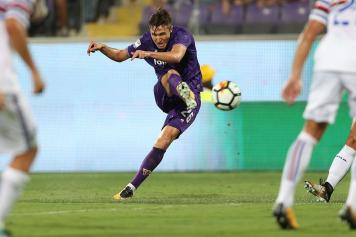 28 November at 14:45
In one of the most famous songs off the White Album, "Revolution", John Lennon gave his response to the Vietnam war in the
Beatles first overtly political song
. While comparing football to what was happening in society during the late 60s is a bit blasphemous, a few of the song's lyrics made me think of the current analysis of what is wrong with Italian football:
"
You say you want a revolution,
Well you know
We all want to change the change the world
You tell me that it's evolution
Well you know
We all want to change the world"
"You say you g
ot a solution
Well you know
We'd all love to see the plan"
"You say you'll change the constitution
Well you know
We all want to change your head
You tell me it's the institution
Well you know
You better free your mind instead"
Not surprisingly the Azzurri's shocking elimination from the upcoming World Cup in Russia was followed by calls to revolutionize Italian football. While this reaction is certainly understandable, and for the most part appropriate,
it's also likely true that with two better leaders than Tavecchio and Ventura
, the changes taking place within Calcio would be more evident.
But before we get to the significant positive actions already taking place in Serie A, Sweden taking out Italy in the playoff round of the World Cup qualifiers would have probably been avoided by addressing two factors that aren't part of the scope of the discussions of what ails Italian football.
Let's start with one not being discussed enough: the Azzurri's historic aversion to taking friendly matches seriously.
While in the past we could almost joke about the Italian national team putting the same amount of effort into friendlies as Nicolas Cage
does in picking movie scripts, now there are real consequences in the rankings that determine the pots in the draws.
Had the Italian Federation not scheduled a meaningless friendly against Portugal on June of 2015, a match they lost 2-1 in which Ranocchia, Bertolacci, Soriano and De Sciglio started, they would have never
dropped to the second pot putting them at risk of getting a team like Spain in the qualifiers.
Now friendlies between national teams will always be part of the game, but that match wasn't taken seriously and the consequences were huge.
​While the match against Portugal happened on Antonio Conte's watch, with a better coach than Ventura in the qualifying round I suspect the Azzurri would have a ticket to Russia next summer. In fact talent wise you can make a case the squad that was eliminated by Sweden had considerably more talent than the starting eleven
Conte used when the Azzurri had world champions Germany on the ropes with at last Euro- the now Chelsea manager had to rely on Sturaro, Giaccherini, De Sciglio, Eder and Pelle'
and almost pulled it off.
​Would we be talking about the need to bring dramatic changes to Italian football had the Azzurri had a manager who integrated Jorginho into the squad much sooner, and found a formation and strategy to get the most out of Verratti,
Immobile and especially Insigne? Probably not, in fact had Italy qualified for the World Cup on top of the improvements we are seeing from Serie A club teams in Europe
, maybe we would be talking more about the many positive changes taking place within Calcio.
​Now don't get me wrong, there's still room for considerable improvement within Italian football, but the knee jerk reactions to Ventura's dreadful work are making some ignore the progress already taking place.
As I pointed out a few times, the product on the pitch in Serie A is much better- there will likely be a real scudetto race
, and probably even more importantly, we are now seeing more and more top players stay in Italy rather than leaving to go play abroad.
Last season we had six strikers score over 20 goals in Serie A (so much for being a boring and defensive league) and all of them stayed at their respective clubs, including Andrea Belotti who stayed at a mid table team like Torino. I
f that weren't enough, we also saw a player like Leonardo Bonucci move from Juventus to Milan, as opposed to say Chelsea or Manchester City,
while top prospects like Skriniar, Kessie', Conti and Schick also stayed in Serie A despite changing teams.
This radical change is driven by having more competent and wealthy owners in Serie A- despite being limited by Financial Fair Play restrictions which they inherited from previous administrations, both the Suning group and J
ames Pallotta are improving Inter and Roma's situations respectively.
The nerazzurri kept all of their best players, added a coach like Spalletti and a director like Sabatini while the giallorossi brought Monchi to Italy's capital to help start a new cycle.
​While Carlo Tavecchio received plenty of fair and warranted criticism, he also helped bring VAR to Serie A. While the kinks need to be ironed out with the on field review, it's refreshing to see such a radical change implemented in Serie A before other leagues in Europe- especially when you consider how much Calcio is subject to conspiracy theories with referees.
In addition to VAR, we are seeing innovation in Serie A on the social media front. Many of the top clubs have opened English language accounts on Twitter and some have taken it a step further by marketing in the
Asian and South American markets. Roma's English language account has recently won awards for their ground breaking announcements for new signings,
and Juventus hired a veteran from MLS in Daniel Robertson to bring a more modern flavor to their social media.
​While there's still a lot of work to be done on the stadium front, in addition to Juventus and Udinese who have state of the art facilities, Cagliari is ready to inaugurate a new home while both Fiorentina and Roma have plans to do the same. This is in addition to Atalanta and Torino making significant improvements to their stadiums
in the last year.
On the Italian player front, while there's certainly a higher number of foreign players starting regularly for the top teams
(and this is an issue that will be tough to resolve because of the European Union's labor laws), the Under 21 squad that participated in the recent Euro in Poland features numerous starters in Serie A including Donnarumma,
Conti, Caldara, Pellegrini, Chiesa, Petagna as well as Bernardeschi who joined a top team like Juventus.
​Definitely more changes need to take place in Italy, and there are some valuables lessons to learn from Germany and Spain who have an impressive wave of talent, but as John Lennon taught us rather than focusing so much on the institution (in this case the Italian federation) try to also
free your mind from the Ventura nightmare and take a moment to recognize the revolution has already begun.
@DavidAmoyal
David Amoyal