HORNCASTLE: Goal-crazy Higuain could join Maradona in Napoli's pantheon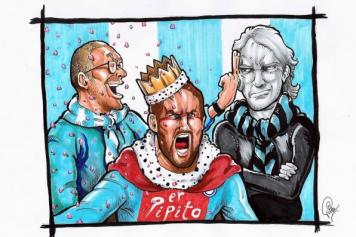 01 December at 14:25
Before disappearing down the stairwell behind one of the goals at the San Paolo and making his way back to the dressing room at full-time, Gonzalo Higuain saluted the Curva. He clapped his hands above his head and the fans clapped with him. It was reminiscent of Freddy Mercury at Live Aid.
Seizing the moment, stadium announcer Decibel Bellini grabbed his microphone and led the crowd in one final call and response of "GON-ZA-LO… HI-GUA-IN!" Bellini usually only does this routine when Higuain scores. He had already strained his vocal chords twice on Monday evening and didn't need to again. A hat-trick goal hadn't arrived. But Bellini must have thought: 'To hell with it!' If I lose my voice so be it. He wanted Higuain to feel the full appreciation of his public. After the standing ovation he received following his substitution against Juventus in September when he scored and assisted in a 2-1 win, this was another way of saying: Thank you. "A magical night" is how Higuain defined it.
It had started with him putting Napoli in front after only 64 seconds in their top of the table clash with Inter. The second fastest goal in Serie A this season, it was also the eighth consecutive match he has got on the scoresheet at the San Paolo, a feat matched only by Diego Maradona in the club record books. A couple of mistakes by Jeison Murillo presented the opportunity. But Higuain still had everything to do.
Receiving the ball with his back to goal, he needed to beat a goalkeeper in Samir Handanovic who had kept nine clean sheets this season. A quick take not only caught the giant Slovene by surprise it also had Mediaset's Neapolitan commentator Raffaele Auriemma hysterically shouting: "Si gonfia la rete" - "the net bulges" - and provoked a cacophany of noise at the San Paolo.
If here was a magnificent example of Higuain's technical accomplishment, his match winner around the hour-mark displayed his physical prowess. Running onto a Raul Albiol header, he beat Inter's centre-backs for pace, held off Miranda, kept his balance and dispatched another fine shot past Handanovic again. Averaging one every 92 minutes in all competitions, it was Higuain's 14th goal of the season and it sent Napoli top of the table in December for the first time in quarter of a century, which incidentally was when they last won the Scudetto.
"The section of the encyclopedia entitled centre-forward has its photo," wrote La Gazzetta dello Sport. Of your traditional ones - let's disregard Lionel Messi, Ronaldo, Neymar as hybrid types here, agglomerations of several positions - Higuain has to be in the top five in the game at the moment. Broaden it out to include them and he is eighth in Europe's top five leagues for goals and assists with 63 since 2013. That's as many as Robert Lewandowski.
For Napoli coach Maurizio Sarri, he is "the best in the world." The 27-year-old is undoubtedly in the form of his career. Even when Carlitos Tevez was in the division there was an acknowledgement that - on his day - Higuain was the best player in Serie A. What separated them was environment - Turin is a less pressured place to play than Naples - better coaching, more tactical coherence, greater experience and playing with better players. These things affect continuity of performance.
But Higuain also gave the impression of either holding himself back or being his own worst enemy. Tevez always played as if his life depended on it and he never brought any emotional baggage onto the field. The same couldn't be said for Higuain who at times, especially last season, seemed tormented by inner demons and gave the impression of being dissatisfied with himself and his teammates.
He missed a gilt edged chance for Argentina in the World Cup final. Returned to Napoli, rescued the first leg of their Champions League play-off with Athletic Bilbao, only for it all to be in vain. That put him in an almighty funk. He didn't score in the league until October. Winning the Super Cup in Doha, where both Higuain and Tevez scored braces, promised to be a turning point in his and Napoli's season. It was a false dawn. Profligate in the Europa League semi-final as Napoli were eliminated by Dnipro, penalty misses on the final day against Lazio, a decider for Champions League qualification, and in the Copa America final concluded an Annus Horribilis for Higuain.
But put it this way: if scoring 29 goals constitutes a bad year and not playing to his potential, just imagine when Higuain does. Well, we no longer have to. Higuain came back with a point to prove last summer. He wanted to silence the critics. Haters like the guy he got into a scrape with in Ibiza who thought it would be a bright idea to remind Higuain while on holiday of his howler against Chile. Looking leaner and meaner than ever, he paid a visit to Giuliano Posner, the Italian dietician, credited with improving even Messi's performances. Higuain lost 3kg. Able to play at a higher intensity, defenders can't live with him.
Then of course there is Sarri. Many, including himself, wondered how he would cope managing big egos after a coaching career that with the exception of one year has been spent entirely in the lower divisions. He certainly wasn't backward in coming forward and didn't shy away from telling Higuain the inconvenient truth. "Right away I told him he was too lazy and that if he didn't work on it he wouldn't become one of the best strikers of the world. He's an immense talent. Up until now he has expressed 80 to 90% of his potential. He's the complete striker [23 assists between league and European competition for Napoli tells its own story] but if he learns to attack the space and make more runs to the near post he can become a crac."
Even after last night's display, Sarri, to the surprise of his interviewers, was demanding "more ruthlessness and more application" from Higuain. "Damn," Sky Italia pundit Gianluca Vialli said in the background. Can Higuain really play even better? Once again, he has got Napoli daring to dream. "It's only right that they do," he said. The Argentine wishes to follow in the footsteps on Maradona. He had hoped to win the World Cup one year, then the Scudetto the next like El Diego did in `86 and `87. Alas it wasn't to be. But he might yet deliver the title.
Right now, he is the hinge on which the balance of power is swinging in Italy, just like Andrea Pirlo was for Juventus in 2011-12. Winning the league with Napoli is an achievement that is often used to separate Maradona from Messi. If Higuain does it, the least you can do is stop defining him as a bottler and begin to appreciate him as one of the outstanding forwards of his generation. Can't find it in your hearts to do it? Believe me Napoli will. End a 25-year wait for the title and Higuain won't just be a footballer. He'll join Maradona as a God.
James Horncastle, @JamesHorncastle