Horncastle: Is it the end of Sousa's Purple Reign?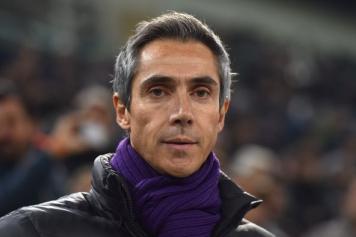 24 April at 12:01
"Many of you think that sooner or later we will begin to fall away. For me, however, winning the Scudetto is not impossible." Paulo Sousa made this announcement back in December. It was on the eve of Fiorentina's last meeting with Juventus and no one laughed him out the room. Fiorentina had spent a couple of weeks at the top of the table at the end of October and beginning of November. At the time they were only a point behind league leaders Inter and had been on the podium since August, displaying an unexpected staying power.
Sousa had won the league in Switzerland and Israel in each of the last two years and wanted Fiorentina's players and fans to believe in a first Scudetto since 1969. "We need to replace words like prudence and fear with courage and ambition," Sousa said. The Viola were playing beautiful football. They had Serie A's best attack. Nikola Kalinic was already in double figures. Gianluca Vialli, the former Juventus player and current Sky Italia pundit, felt their tactics were "avant-garde." Sousa, an ex-teammate's of Vialli's in Turin, was even being talked about as a future Juventus coach.
For the first time since 1999, Fiorentina prepared for a game against their biggest rivals ahead of them in the table and by five points too. Juventus' comeback from their worst start to a season since 1912 had already begun. Juan Cuadrado's 93rd minute winner in the Turin derby set in motion a winning streak that had reached five games. Cuadrado, the hip swinging Colombian trickster and former Fiorentina favourite who Luca Toni nicknamed Vespa because of his acceleration. Juventus were on the up.
As the calendar year drew to close, the points they had gathered in 2015 totalled 75. Their nearest rivals were Fiorentina on 72. In hindsight, it's tempting to see this game as a microcosm of the Viola's season. They got in front early. Few teams have scored as many goals in the first half of games as Fiorentina. Their opener arrived from the spot, which shouldn't have come as much of a surprise either, as no one has been awarded more spot kicks than Sousa's team this season.
You'd think that their ability to keep the ball would have helped them see the game out. But Fiorentina's record against the other so-called 'big' teams has been a disappointment. OK, they beat Milan and Inter. However, there were caveats to those wins: the reputations of the Milan clubs precede them - they are no longer what they once were - and both were reduced to 10 men early doors. Fiorentina ran Napoli close at the San Paolo but overall the impression given was that these teams were still perhaps a step above Fiorentina.
Cuadrado came back to haunt his old side. Mario Mandzukic and Paulo Dybala wrapped up maximum points. Since then, there has been a 28-point swing in Juventus' favour. Tempting though it is to say this is where Fiorentina's season began to unravel, it would be wrong. They went out of the Coppa Italia a few days later to Carpi, which was a disappointment, but bounced straight back in the league. At the end of the girone d'andata on January 10, they were still only four points off the top and one behind Juventus.
As such the winter transfer window was, in Sousa's opinion, a big missed opportunity for Fiorentina. They needed "courage and ambition." Instead they got "prudence" and a reawakening of dissent in the stands at the Artemio Franchi. Riskily, Sousa allied himself with the fans, which necessitated clear the air talks with the owners in order to clarify exactly which side he was on. Brought back into line, it was still apparent that there was disappointment at not going to the extra mile to sign his first choice targets. The impression given is of a manager unsure about the club's ability to match his ambition.
Sousa still has a year left on his contract but has not committed to next season and the presence of Zenit technical director Henk van Stee at the Tuscan derby against Empoli amid reports of dinner earlier in the week has shaken confidence that he will be at Fiorentina beyond May. The Delle Valle family want Sousa to stay although the 'price' of keeping him is likely to involve granting him wider powers on transfer policy, which a club endeavouring to stay within UEFA's Financial Fair-Play parameters are unlikely to give.
All told, an uninspiring January transfer window and the uncertainty about Sousa's future has popped the purple balloon. The enthusiasm has fizzled out. A fine season is being thrown away. The team has gone through the motions. Fiorentina haven't been able to put back-to-back wins together in all competitions in 2016. Unlike in other seasons when they've gone deep in the Coppa Italia and the Europa League, elimination in early spring has them with close to a lack of purpose.
The defence that Sousa believed to be in need of an upgrade has kept one clean sheet in 14 games. Facundo Roncaglia put on a horror show against Sassuolo. Gonzalo Rodriguez got caught out against Udinese. Davide Astori was supposedly dropped for speaking out in the dressing room. Up front, Fiorentina have gone backwards. Kalinic has scored once since last playing Juventus. The league's best attack in mid-December now ranks fourth. Its output has fallen from 2 goals per game to 1.4.
Sousa has been accused of contradicting himself. Wednesday's night game against Udinese, he said, was more important than this Sunday's against Juventus. Why then did he leave Kalinic, Josip Ilicic and Federico Bernadeschi out of the starting line up? It can't be out of concern for their fitness. They're not involved on three fronts and much of Sousa's focus in press conferences of late has been spent going to great lengths to defend the physical condition of the team. He even gave journalists detailed stats with accompanying graphs.
What then is behind Fiorentina's malaise? "The mental intensity," Sousa says. Perhaps because they're distracted by everything going on around the club. "That and the fact that our opponents are now wiser to us." Fiorentina have become predictable. They need to mix it up more. Be more direct rather than settling into the same sterile sideways passing patterns.
It imbues Sunday's game against Juventus with a significance that goes beyond the rivalry. Fiorentina can still finish fourth and qualify automatically for the Europa League. Losing to Udinese on Wednesday was particularly frustrating as it meant they did not capitalise on Inter's defeat in Genoa. Reaching the Europa League without the inconvenience of preliminaries would be very welcome indeed. Beating Juventus might also reinvigorate their season and help the team shake itself out of its funk and end the year on a high. Losing would only deepen the sense of disenchantment and with that Sousa's purple patch could be over.
@JamesHorncastle