Horncastle: Conte takes a leaf out of Sacchi's book as Italy destroy Belgium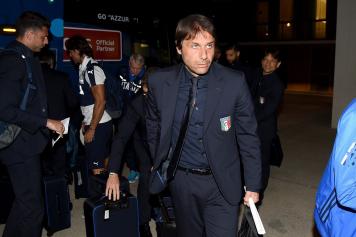 14 June at 12:07
Billy Costacurta told a great anecdote on Sky Italia the other night. He was reflecting on his experiences with the national team at major tournaments, in particular the `94 World Cup when Arrigo Sacchi was commissario tecnico.

Sacchi is famous for never allowing his players to relax. When he wasn't barking at them through a megaphone on the training field, he was doing the rounds on a night, knocking on doors at the team hotel to have a chat about a players' performance or the upcoming game. Many of them pretended to be asleep and simply ignored him.

No one, if they could help it, wanted to end up sitting next to him at dinner, apart from one member of the squad. Sacchi apparently used to wait for everybody to take their seat before dinner was served. Antonio Conte, meanwhile, would wait for everybody else. That way the only place left was beside Sacchi.

Sacchi's insights, not the meal, were what sustained Conte. He ate them up and drank them down. Last night it was clear how well they had been digested. The football Italy played against Belgium was, in many respects, Sacchiano. To him, the best teams are always orchestras. There is a harmony about them. They move as one and are greater than the sum of their parts. That was Italy at the Stade des Lumières: an orchestra conducted by Antonio Conte, playing music composed by Antonio Conte.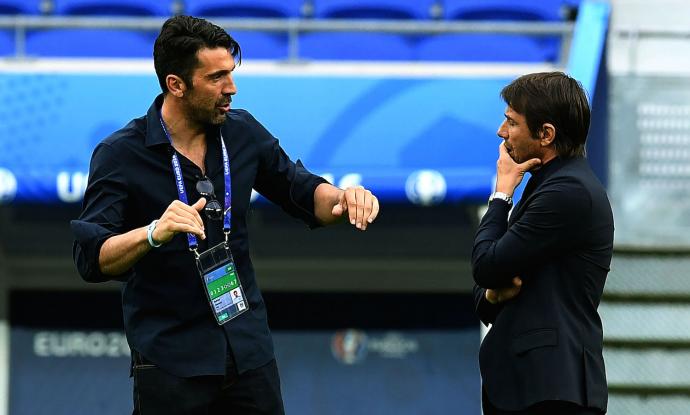 Belgium by contrast were the absolute antithesis. A group of soloists, playing for themselves rather than for each other, and less than the sum of their parts for it. Marc Wilmots dropped the baton. Worse than that he left the impression of being unable to read music. If Conte was the Claudio Abbado and Ennio Morricone of the piece all rolled into one, Wilmots was instead the man in the Monty Python sketch The Exploding Blue Danube, waving his hands in the air as the musicians behind him go up in smoke one by one.

A triumph for coaching, Italy knew they would have to out-think and out-hustle their opponents if they were to win in Lyon. They have not got Belgium's talent. Four members of last night's starting XI were in the Cesena team that got relegated four years ago. But, as a former player once put it to me, hard work beats talent when talent doesn't work hard. It's as good a motto for Conte's Italy as any. If Cesare Prandelli's team was built around Mario Balotelli, his successor's stands for the complete opposite. He made that clear from the outset.

Conte would rather take a less gifted player who is prepared to listen, humble enough to put side before self and carry out his orders to the letter every day of the week. A player like Emanuele Giaccherini, for instance who has his limits just as Conte did back in his playing days.

"I didn't know what to do when I got the ball. I was not Zidane or Del Piero," Conte readily admits. "I would stop, look around me and before long the crowd were whistling. So what I like to do is give the less gifted players like me the opportunity to memorise solutions that allow them to be involved in the play. That way they know where to get the ball and where to play it. I could run, get into the box and head the ball, but when it came to laying on an assist, it was a problem."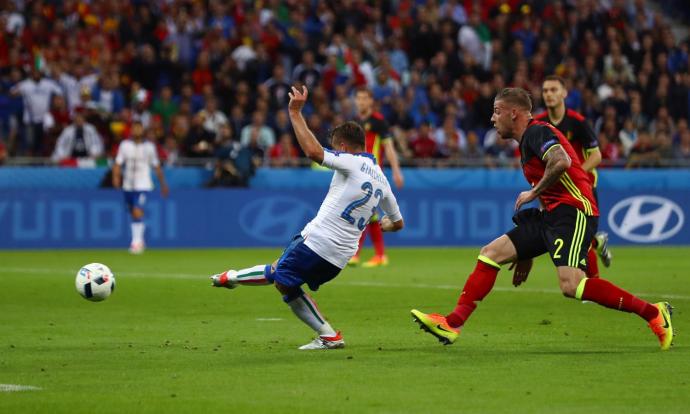 Giaccherini's goal last night was straight off the training ground. Italy had tried it against Finland and Scotland. "Conte told me that if I mis-controlled the ball again like I did against Scotland, I would be walking home," he laughed. But Giaccherini didn't. On the contrary, touch was perfect. As was the ball from Leonardo Bonucci. "It was a move we tried and tried again at Juve," he explained. A well-rehearsed move. Italy's players know their lines off by heart and Conte writes the script.

His hand was so visible in Italy's performance last night it was like he was holding it over the pitch. Pieces of string could have dangled from his fingers and connected him to the players. Mario Sconcerti, the Corriere della Sera columnist and wise old man of TV punditry in Italy, thought he was operating them by "remote control."

"We still haven't done anything," Conte claims. "The memory of two years ago, [when Italy beat England in their opening game and still went out in the group stage] is too fresh. It's a wound that still burns mine and everybody else's skin."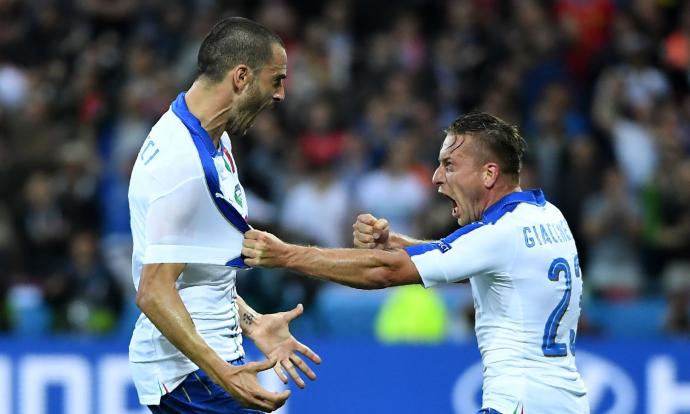 Of course the only wound currently paining Conte in a literal sense is the cut Simone Zaza opened up on his cheek as the bench celebrated Giaccherini's goal. It soon took on ulterior significance. With Italy 1-0 up at the time Conte could smell blood.

La Repubblica's Maurizio Crosetti even thought for a moment that he saw Hannibal Lecter down on the sideline. "Conte devoured Belgium," he wrote. Clearly Conte's tastes have evolved since joining Sacchi at the dinner table all those years ago. If they were to share a bite tonight, one imagines his mentor would tell him a cautionary tale from Euro 96 when Italy won their curtain raiser against Russia only to go home much earlier than that performance indicated.

"I hope this win doesn't quench the team's thirst but my boys are too intelligent for that," Conte said. That learnedness comes from Conte, which brings us back to Sacchi and another of his pearls of wisdom. One of his favourite sayings is that Michelangelo painted with his mind, not with his hands and Conte's ability to see the big picture before anybody else can could provide Italy with an edge in France. Euro 2016 could be his masterpiece. "He is the best coach in the competition," concluded Costacurta.

@JamesHorncastle