Horncastle: Juventus' new leader? Why Paulo Dybala should be given the No.10 shirt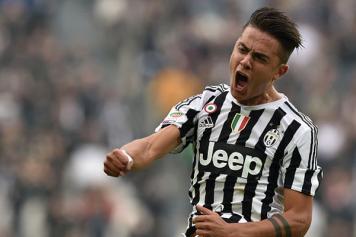 17 December at 19:55
It takes a lot to impress Zvone Boban. This is one of the reasons why his opinion is appreciated more than others.

After Juventus' 3-1 win against Fiorentina on Sunday, debate turned to Paulo Dybala. His latest exploit, one of three goals he has scored in four games since the beginning of December, was a brilliantly executed left foot finish.

Dybala had shifted the ball inside to evade an onrushing defender, who subsequently passed him like a freight train. He inched along the six-yard line with the balance and poise of a tight rope walker then put the keeper on his backside. Upon seeing the ball ripple the net, Paul Pogba, up in support, celebrated like a madman. Quite understandably, everyone was getting a touch carried away. But not Zvone. "Saying he is destined for big things is a little more balanced," Boban mused. Anything more, like the Messiah, was over the top.
"He's a big talent," Zvone continued. "He scored a wonderful goal and showed great freshness and cool under pressure. But there are a lot of players who are better than him with potential that he'll never reach." Boban just doesn't see Dybala getting to the level of Messi, Ronaldo or Neymar.
What a killjoy, which is an entirely appropriate description of Boban considering one of Dybala's nicknames is La Joya. His analysis is a harsh but fair one. The players who Boban names are 'extra terrestrials'. They're not from this planet but a galaxy far far away. Still it must count for something when one of them, especially Messi, says: "Paulo is a great player with a big future. We'll be talking about him for years to come."
There are Juventini of a certain generation who have drawn comparisons between Dybala and Omar Sivori. It's the swing of the hips, the low-slung busyness, the tango steps. But Dybala is no Angel with a Dirty Face. He is an Angel. Sivori, by contrast, used to toy with his opponents.
He would stop the ball on the goal-line, invite a defender to come sliding in, drag it back and watch him fly right by then put it in the back of the net. He'd win dubious penalties and pretend to be all Corinthian about it. "I'll go left," Sivori would tell the `keeper. How sportsmanlike of him to offer to correct an injustice. What a gentleman. But it was all a con. Sivori, the cheeky so-and-so, would go to the right instead.
One can't imagine Dybala and his clean-cut choir boy looks ever being so devilish. He is not a provocateur like Zlatan for example who, for all the difference in size, is probably the Juventus player to have captured Sivori's spirit the most. Dybala instead appears to be the sort of kid to help your nonna cross the road. The straight A student. The nice guy you'd like your daughter to marry. In this respect, I suppose, he has a touch of the Del Piero about him. Inevitably, however, the player with whom Dybala is most associated is his predecessor, Carlitos Tevez.
As with Sivori, it owes a lot to their shared Argentine heritage, although their backgrounds couldn't be any more different. Tevez is the streetkid from Fuerte Apache [a very dangerous neighbourhood in Buenos Aires], whose friends either wound up dead or in jail. Dybala, El pibe de la pensiòn, doesn't bear Carlitos' scars, but lost his father young and left home when still a boy to fulfil his dream of becoming a footballer.

Similarities in style have been observed. Dybala likes to come short, start deep, run at his opponents, play give-and-gos and, occasionally, try his luck from distance either from open play, like against Lazio and Torino, or a free-kick.
Explaining his role after scoring and assisting in a 2-0 win against Atalanta in October, Dybala said: "It's almost that of a trequartista. I play between the lines. The truth is I have been studying Tevez for a year. I watched all his games last season and when we train together for the national team I try to copy him as much as possible."
Others aren't so convinced of the resemblance. They think it is too reductive. Giorgio Chiellini believes Dybala is smoother. A more polished precious stone than Tevez's rough diamond. "He's got superior technical ability." That doesn't mean to say he is better or more effective, although it is true that Dybala gets through as much running per game [12km] as Tevez, and has matched the numbers he put up at this stage in his first season in Bianconero despite playing substantially fewer minutes.
Coach Max Allegri has eased him in gradually just as he did with Alvaro Morata last season. He refused to let Dybala's price tag - "it's not my problem he cost €40m" - and pressure from fans and the media when Juventus were in the midst of a crisis at the beginning of the season to influence his "education." Dybala needed to learn a new mentality. Playing for Palermo and Juventus are entirely different things. He could switch off and drift in and out of games in Sicily. He can't in Turin where, unlike at the Favorita, he is now expected to win every game.
His position has changed too. At Palermo, Dybala got into double figures in goals and assists, but he was the focal point of their attack and the team played exclusively for him. At Juventus, instead, he has to play for the team, link the play, and not offer opponents any reference points. It's an entirely different role and with it comes a new challenge too. For instance Dybala was used to teams coming onto Palermo and leaving lots of space for him in behind. Against Juventus however opponents sit back. Everything is tighter.
Dybala has had to get used to new movements and also come to terms with more physical contact. Something of a lightweight, he has had to become more robust. So he hit the gym. The intensity of the training programme he put himself through probably goes some way to explaining why we didn't see as much of him as we would have expected at the beginning of the season. Dybala must have put himself through a lot. He has gained 3kg in muscle mass and has spoken about how he needed to up his fitness levels in order to make the run after run after run in and out of the box and up and down the pitch. Now the results are there for all to see.
He is performing with great continuity. Dybala makes things happen. He has combined for 11 goals this season, scoring the winner against Milan, a consolation away at Roma, an assist in Naples, a beauty against Lazio, the clincher against Fiorentina, and one within 20 minutes of coming on as a substitute in the Turin derby in the cup on Wednesday. Those are big games. Dybala is consolidating his status as Juventus' technical leader. As such, it's worthwhile to ask: isn't he a more suitable candidate to wear the 10 shirt than Pogba?
Before Pogba sought and obtained it this summer, editorials were written wondering why Dybala hadn't been given it. The consensus was that Juventus didn't want to burden him with too much pressure.
But even if parallels have been made with Sivori, Tevez and Del Piero, the number Dybala wears now by no means enjoys a bad tradition. The 21 belonged to Zinedine Zidane and Andrea Pirlo, players of elegance and grace, after all. What impresses about Dybala, aside from the performances, is his humble diligence. "I know that I have to improve and self-criticism helps me do it," he said after a Man of the Match display against Atalanta, which he insisted was error-strewn.
It tells us about his drive and when it comes to judging Dybala the truth probably lies somewhere in Boban's high standards and the hyperbole of Tuttosport's "IncreDybala" front-page headlines. He might not be a Messi, a Neymar or a Ronaldo but Gianluca Vialli speaks for many of us when he says: "I have seen a light in his eyes which only the great champions possess."
James Horncastle, @JamesHorncastle