Horncastle's Winners and Losers: Belotti is Italy's new Vieri, Milan and Inter share the spoils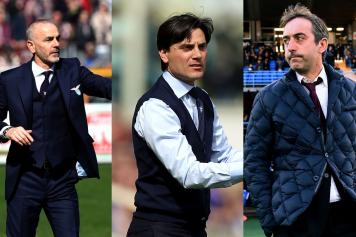 21 November at 13:57
It's that time of the week again: following a rollercoaster of a Matchday, it's time for James Horncastle to sum up Week 13, and analyze who is trending up, and who is trending down. What on earth is up with Roma's defence? Why have Sassuolo fallen off a cliff? And how come BOTH Stefano Pioli and Vincenzo Montella won the Derby della Madonnina?

Let's delve right in, shall we?
WINNERS
Old Lady sitting pretty
The weekend could not have gone better for Max Allegri. Not only did Juventus' second string win comfortably against Pescara, all the pretenders to their throne dropped points. Already seven clear of the chasing pack after just 13 games of the campaign, the Old Lady has
never
been so far ahead of the competition at this stage of a season over the last five years. On the one hand, they have simply met expectation after the transfer window they had in the summer. On the other, this team has already lost twice and is yet to play well. The competition needs to take a long hard look at itself.
Citizen Kean
The comparisons with Mario Balotelli are inevitable. Moise Kean is young, gifted and black. He's the next big thing in Italy, takes his advice from Mino Raiola, and celebrated a goal he scored for Juventus' Under-15s with a Why Always Me? T-shirt. On Saturday, he became the first kid born this millennium to make their debut in Serie A. Potentially a super star in the making, Juventus have offered the 16-year-old his first professional contract. However, they fear Raiola believes Kean is worth even more than the €250k a year they have put on the table. Parallels have been drawn with how PSG lost Kingsley Coman to Juventus in 2014. Might the Old Lady be about to get a dose of their own medicine?
Lorenzo il Magnifico
Napoli returned to Friuli on Saturday evening for the first time since Udinese blew their challenge to smithereens last April. An acrimonious defeat compounded by Gonzalo Higuain's suspension for a red card marked the end of the line for the Partenopei and their hopes of usurping Juventus. Historically a bogey ground for Napoli, they exorcised their demons at the weekend with a 2-1 win. Their first in these parts in almost a decade, Lorenzo Insigne got both goals, ending a 17-game drought that goes back more than six months, a lean streak that reminds us Napoli's issues have been bigger than replacing Higuain and losing Arkadiusz Milik. Insigne got into double figures in goals and assists last season, but less holiday, tense talks to extend his contract and the form of Dries Mertens who took his place on the left wing until Milik's injury prompted Maurizio Sarri to use the Belgian as a False 9 have all contributed to performances below expectation. It's good to see him back to his best.
Andrea Belotti
Twenty four goals this calendar year for club and country. TWENTY FOUR! Italy has its new Vieri.
​Gian Piero Gasperini
When Plan A isn't working, ordinary managers struggle to react. But Gian Piero Gasperini is no ordinary manager. After watching Roma dominate his Atalanta side in the first half on Sunday, he withdrew Andrea Masiello, a defender for Marco d'Alessandro, for a midfielder, and switched from 5-3-2 to 3-4-3. One-nil down at the interval, his team won 2-1 and played their opponents off the park. Atalanta made 25 crosses, shot 20 times at goal and, surprisingly for an aggressive up and at'em team, played with great technical accomplishment, completing 80% of their passes. If the season began eight games ago, they'd be top of the table, a point clear of Juventus. It's their best start ever. Asked if Atalanta can 'do a Leicester', Gasperini said: 'Come on now. Let's not get too carried away. Perhaps the atmosphere and enthusiasm around the club is similar."
Suso
As the 187th Derby della Madonnina went into stoppage time on Sunday night, Suso was seriously contemplating the 43km walk home. The former Liverpool player had promised his Milan teammates that he would make the journey back on foot if he scored a brace and the team won. Well, after 58 minutes it looked like he better get walking.Suso curled a shot inside the post to give Milan the lead, then got them back in front, leaving Miranda for dead with a delightful drop of the shoulder before finishing past Samir Handanovic. Milan and Suso seemed quite literally to be marching on only for Ivan Perisic to equalise for Inter in the 92nd minute. Spared the long walk home, it was still a memorable night for Suso who became the first Spaniard to score in the Madonnina since Luis Suarez in 1967. Montella probably wouldn't have let him hike all the way back anyway. "He rans his socks off," Milan's coach smiled. "We'll make sure he gets a bus ride home."
Vincenzo Montella
Milan have less possession, make fewer passes and play deeper than Montella's Fiorentina. Italy's most Spanish coach is going back to his roots. Sky Italia's Massimo Mauro joked Montella is the second coming of Nereo Rocco. While there was a sense Milan dropped two points at the end of the derby, they did still gain ground on Roma and, as Montella put it, "got some satisfaction in seeing a team that was built to win the title - spending €100m more than them - celebrate a draw as if they had won the Scudetto."
Stefano Pioli
Inter did not deserve to lose. They had 30 more crosses, 11 more shots, seven more corners, and 65% possession. "Only one team played in the first half," Pioli said. Inter showed the spirit he demanded, twice getting back into the game and it was vital that they didn't lose not only because they already have enough ground to make up as it is but also because they have Fiorentina and Napoli coming up next.
Silvio Berlusconi
Asked by Sky Italia if this would be his last derby as president of Milan, Berlusconi chose his words carefully with the express intention of them becoming the subject of great speculation. "I don't believe so," he said. What does he mean by that? Does he imply he will stay on as honorary president once the takeover is completed on December 13? Or are there new doubts about Sino-Europe Sports' ability to close the deal? Left a little disappointed by Inter's 92nd minute equaliser, the memory of the Curva Sud's choreography dedicated entirely to his glorious tenure will live long. Old Silvio was deeply touched.
Fabio Quagliarella
His 100th goal in Serie A started an improbable comeback against Sassuolo. Down 2-0 as the game entered the final 10 minutes, somehow Samp won 3-2. Quagliarella's partnership with Luis Muriel shouldn't work but it does. It's an awful lot like pairing strawberries and balsamic vinegar. An odd but mouthwatering combo.
Lazio
No one at Lazio regrets missing out on Marcelo Bielsa. In fact it just might have been a blessing in disguise. The Eagles continue to fly under the radar but Sunday's win against Genoa makes it eight games unbeaten for Simone Inzaghi and his player. Just a point outside the Champions League places, Lazio showed they are anything but dependant on top scorer Ciro Immobile. Their goals on Sunday came from Felipe Anderson, Lucas Biglia and Wallace. In all 13 different players have got on the scoresheet this season. That's the hallmark of a great collective.
Feel the Bern
Federico Bernardeschi and Paulo Sousa have had their differences but now find themselves firmly on the same page. A brace in Sunday's Tuscan derby with Empoli makes it six goals in 10 starts for the Fiorentina No.10. It's a surprise people aren't talking about him more.
Ilja Nestorovski
Say what you like about Palermo but they sure know a striker when they see one. After Edinson Cavani and Paulo Dybala comes Nestorovski. The Macedonia international scored again at the weekend. He now accounts for seven of their 10 goals this season.
LOSERS
Roberto De Zerbi
Six straight defeats is the worst run Palermo have had in the top flight since 1957. Owner Maurizio Zamparini has so far shown unusual restraint in not sacking Roberto de Zerbi. The small matter of it costing him €1.5m is maybe weighing on his mind.
Leo Paredes
Made an impact as a sub but it wasn't the kind Roma were after. The talented Argentine
regista
brought down Papu Gomez in the area with a silly foul and gave away the penalty for Atalanta's winner.
Roma
'Missing, presumed out of the title race' was the harsh judgement on Roma's second half performance in Bergamo. The team's mentality once against came under scrutiny. Rather than go for the kill and score the second goal that Mo Salah could have done in the opening 45 minutes, after the interval they instead seemed to take the subconscious decision to protect what they had got. Roma couldn't react to the tactical changes Gasperini made nor the intensity Atalanta played with, retreating deeper and deeper, apparently unable to get out. Without Totti there to rescue them like he was in April, Roma lost for the first time in two months. Second to every ball, they didn't win a tackle in the second half. Inevitably held up as a compelling reason why Roma can't win the title, we should remember Atalanta also beat Napoli and Inter here and just so happen to be the most in-form team in Serie A over the last eight games. The issue isn't so much with the opponent, but with old habits dying hard with Roma. As was the case in Sardinia in August whee Roma were 2-0 up and cruising, they thought the game was done and dusted and stopped playing. You can't do that against anyone, but particularly the Bergamaschi.
Sassuolo
Two-nil up at Marassi the Neroverdi missed a chance to score a third and feel they should have had a penalty. But that doesn't excuse losing the game in the final five minutes. "I couldn't believe it when the final whistle blew," a dumbstruck Eusebio di Francesco admitted. "Maybe it would have been better if I'd stayed at home." Worryingly Sassuolo have now taken just a point from the last 15 available, dropping like a stone from ninth to 16th. An injury crisis, which in turn has forced a change in system, and the Thursday-Sunday grind of the Europa League is penalising them. "We've got to keep our mouths shut and pedal hard," di Francesco explained. Next up, it's Athletic Bilbao at San Mames.