Horncastle: Who are Chelsea boss Conte's Serie A targets?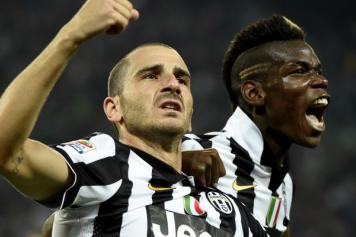 08 April at 16:00
Clubs outside of England are bracing themselves this summer. Once the new Premier League TV deal kicks in, an assault is anticipated on the continent's best players.
From a Serie A perspective, the expectation is that Chelsea, in particular, will pillage the peninsula now that they have announced Antonio Conte as their new manager for next season. It's the market he knows best and buying players with a thorough understanding of his modus operandi makes a great deal of sense. Consider it a shortcut to getting Chelsea to play how he desires. But how realistic is it?
Juventus will certainly not look to do Conte any favours. There is little goodwill between them after he committed to see out the final year of his contract only to walk out on the eve of pre-season and leave them in a spot of bother. Collaboration with him as coach of Italy has been cold, critical and often contrary.
Leonardo Bonucci's name has been put forward as the ball playing centre-back to replace John Terry. Irrespective of their past together, he would represent an excellent choice. Bonucci is the best centre-back in the world at the moment. Pep Guardiola recently said he is "one of the players I admire most." But his loyalty is to Juventus.
Asked while on international duty if he would follow Conte to England, Bonucci said: "I've been for coffee with him once or twice in Turin," but that's it. He signed a new deal until 2020 last summer and is about as Juve as they come. It wouldn't be at all surprising if Bonucci were to finish his career in Bianconero.
Chelsea's attention will have to go elsewhere, probably back to John Stones or maybe to Roma's Kostas Manolas. The Greece international is believed to want a pay-rise and his adviser Mino Raiola has "the impression that Roma will struggle to keep him." Curiously Raiola also said "I don't know if he'll go to the Premier League. Maybe he would do better in other leagues because of his characteristics."
Roma won't wish for a repeat of what happened with Mehdi Benatia and the latest data dump from Football Leaks gives ulterior motive for not selling Manolas this summer. The hackers revealed that he is co-owned with Olympiakos until September 1. Any fee he would command would have to be shared, which, one imagines, would either discourage Roma from doing any business in the next transfer window or encourage them to drive an even higher price.
Another Raiola client and without doubt the most sought-after of all, including Zlatan Ibrahimovic, is Paul Pogba. Juventus have no need to sell and have done absolutely everything to secure their asset. Pogba is under contract until 2019. He is the highest paid player at the club. Giving him the No.10 shirt this season, at the player's request, was particularly smart because as one of the most prestigious and iconic shirt numbers in all of world football it served to further underline his value to Juventus and add to it. His status as the poster boy of Euro 2016 hosts France will in all likelihood only bump it up further.
Chelsea bid €90m for Pogba in the final days of last summer's transfer window and Juventus turned them down. At the time they valued Pogba at €100m. Now it's nearer €115m and €120m and that's before we even get to wages and agent's fees. "If an adequate alternative project does not arrive then it's best to stay in Bianconero," Raiola said. "Actually, we're ready to renew his contract," and up his salary again. Juventus' competitiveness in the Champions League this season and last has served to reassure the player and his entourage that they are able to match his ambition.
In the event he were to opt for a new challenge - and it's a big if - Chelsea would have some leverage. Their new coach was the first to really believe in Pogba and make him the player he is today. Then there are the players Chelsea could offer in exchange like Juan Cuadrado, whose loan they would like to make permanent, and Oscar, who counts Max Allegri as a big admirer. Decent bargaining chips, the pair of them but stumbling blocks remain.
One of the reasons Conte resigned from Juventus is because they refused to sign Cuadrado and given how width is so important to him, it wouldn't be at all surprising if he were to ask that the Colombia international to stay and give it another go at the Bridge. Whether he would want to or not is subject to debate. Cuadrado knows Conte is a great believer in his talent but will feel conflicted about leaving Juventus after a successful season.
Arguably the biggest obstacle of all to Pogba and other blue chip targets joining Chelsea is that, barring a miracle, they won't be able to offer Champions League football next season, nor count on its TV and prize money to bolster their transfer budget. Not in the age of FFP.
Roma are also digging their heels in. Talking to Il Corriere dello Sport about the club's stars last month, owner James Pallotta said: "They're all staying." He reiterated it yesterday in an interview with Roma Radio. "If we have made mistakes, all of us as a group, it's been a mentality of trading too much," he explained. Pallotta wants stability. "… As much as some people don't want to see it or admit it, we inherited a situation with really massive losses and that's why we had UEFA issues. We've turned it around but we've still got work to do."
Even so, Roma continue to grow. They are set to qualify for the Champions League for a third straight season and are about to overtake Milan to become Italy's second richest club. In short, their appeal and ability to retain players is stronger. "It's amazing to me that it's almost on a daily basis they are saying Roma wants to sell this player, or this player wants to go, or that Chelsea or somebody is taking these players," Pallotta huffed. Reports that Miralem Pjanic wants to go are "just ridiculous." Besides: if you have got Cesc Fabregas why do you need Pjanic?
As for Radja Nainggolan, he told Il Tempo last week: "I haven't heard from anyone. I don't know if it's true that they want me. I have read that I told my friends I am going to Chelsea. When did I do that?! I can't talk about things I know nothing about." Nainggolan has the attributes Conte seeks but as with Chelsea's other supposed Roma targets, there is a sense that they have unfinished business in the Eternal City and Luciano Spalletti has got them believing that next year could really be their year.
Up front where Chelsea have been caught short whenever Diego Costa's hamstrings have felt the strain, Napoli striker Gonzalo Higuain has been mentioned too. But as with Pogba, the money required is exorbitant. Napoli owner Aurelio de Laurentiis got every penny of Edinson Cavani's buy-out clause and he won't let Higuain go for anything less than the €94m outlined in his contract.
Once again the lack of Champions League football at the Bridge reveals itself as an issue. Higuain has had to go without it for a couple of seasons now. It wasn't what he signed up for at Napoli so leaving for a club that can't guarantee it seems distinctly unlikely.
Conte might be frustrated then. Although he will have an input in recruitment, his role is "head coach" not manager. He won't be taking decisions on his own. Michael Emenalo and Marina Granovskaia will have their own ideas too. No Champions League will influence who they can and cannot get. Chelsea have respected FFP these last couple of years, turning a €5m profit on player sales and acquisitions. They've already cashed €15m from Roma for Mo Salah and, prior to Conte's appointment, were hopeful of raising €20m from Juventus for Cuadrado. One of their big name stars might even have to be sacrificed if Conte wants to make more wide-reaching changes.
Shopping for Serie A's luxury brands won't come cheap or easy for Chelsea.
James Horncastle (@JamesHorncastle), translated by Edo Dalmonte (@edodalmonte)