How Ghoulam's injury affects Luke Shaw and Man Utd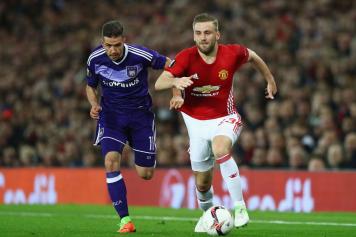 10 February at 11:15
While
football is a highly uncertain arena, it is obvious that things in the game can change in a flash. And what you expect cannot always happen.
Rightly
so, things were seemingly going down for Luke Shaw at Manchester United around three months ago. His career at Old Trafford seemed to be coming to a sorry end, thanks to injuries, fitness issues and apparent attitude problems. It was during a game against CSKA Moscow though, that his fate altered. Since then, the Englishman has become United's first choice and has been on an impressive run. So much so that Jose Mourinho can't stop praising him.
One man though, who
was linked with a move to United before Shaw got into his old rhythm, was Napoli's Faouzi Ghoulam. As the wheels of fortune turned, Ghoulam sustained a knee-injury that will keep him out for long-term. Napoli did confirm yesterday that the Algerian will start training next month, but he will take a while to come back to full fitness and play regularly. And with Shaw now flourishing, it seems unlikely that United head to the transfer window to sign a proper left-back.
Since that game against CSKA, Shaw has been one of the Red Devils' best
players. While the Englishman didn't start against Tottenham for Ashley Young, he has started almost every Premier League game since. And he looks back to his very best- he zooms forward, always positive and provides United with the burst of pace and width out wide that they have been yearning for since he was struggling to make an impact.
It
isn't to say that Ghoulam isn't a bad player, but United had made Shaw the most expensive teenager ever when they signed him from Southampton in 2014 under Louis van Gaal's tenure. They can't let him go at a time when he looks like himself again.
And a
player like Ghoulam wouldn't settle for second choice too and United can't hinder Shaw's development by doing the same. The former St.Etienne man might have impressed before he injured himself in training, scoring twice and assisting thrice, he isn't the most defensively sound left-back. His attacking qualities make him perfect for a wing-back's role and he has played that role a lot of times this season under Maurizio Sarri. But the Premier League will be a new step up for him.
It
isn't as if he can't make that step up, but United are unlikely to make a move for any left-back next summer, with Shaw now fulfilling the expectations.
Kaustubh Pandey(@Kaus_Pandey)