How Juventus overpowered Tottenham to reach the quarter-finals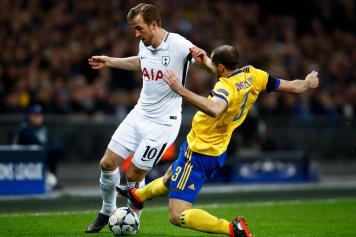 08 March at 17:00
It seemed like a strange Champions League game yesterday, when Tottenham hosted Juventus at the Wembley Stadium in London. Mauricio Pochettino's men were said to be the favorites; the team well in the driving seat thanks to the two away goals advantage that they had taken home from Turin.
The Old Lady did go through after what was a performance that hardly oozed flair or as much flair as their English opponents. It would be largely fair to say that Tottenham seemed like dominating for a vast majority of the 180 minutes, but ended up on the losing side of the game. It was a reflection of how the know-how of playing in the Champions League can sometimes be enough to guide you past the most entertaining of sides in Europe.
And it was a trademark pragmatic job by Massimiliano Allegri's men, who are all too used to winning games that way. Many can say that they were being dominated a lot of times and were chasing shadows, but it wasn't as if Allegri had been overpowered by any bit of it. He knew how to manage the game and do the right things at exactly the right time. There might have been moments, especially when Tottenham were dominating when it might have seemed that Spurs will run away with it, but Juventus knew what to do. And it was executed to perfection.
It was almost as if Allegri had a plan in his head about how the game will pan out and what will happen at what time of the titanic fixture. Rather, his head was the canvas of what was about to happen and he knew everything. He had a picture in his mind.
As soon as Spurs went a goal up, they kept on doing what they were supposed to. And Juve believed in the plan that Spurs will lose concentration and they will have their chances. And it worked- just as it always has for them over the last three or four seasons. They never looked like dominating the game, except for the opening ten minutes of the first-leg, but they knew how Champions League games are won.
They went a goal down. And Spurs looked to be the better team. They were creating chances and overpowering the midfield. But Juve kept calm and got stuck in. They knew Spurs would falter and they would have to grab the chance that came their way. And as soon as Medhi Benatia made way for a willing-runner in Stephan Lichtsteiner, Spurs lost it. One dash forward from the Swissman led to Gonzalo Higuain's leveller and from then on, Spurs looked shell-shocked. A Paulo Dybala run caught their backline napping and it was over. Juventus had taken the chances that came their way. All they had to do was keep Spurs out.
And few teams in Europe defend the way Juventus do. Georgio Chiellini was at his towering best and a shocked Tottenham side found no way past them. It was a new breeding ground for them. A place they had hardly been before.
And while Pochettino took too much time to bring on Fernando Llorente as a second striker, Massimiliano Allegri once again showed how much of a pragmatism he is. And how Juventus are arguably the best in winning knockout games.
Kaustubh Pandey(@Kaus_Pandey17)