'I thought I was going to die': Napoli supporter reveals assault of Liverpool fans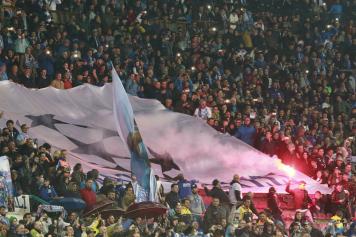 13 December at 10:30
Another episode of violence connected to a football match took place in Liverpool last Tuesday when the Reds faced Napoli.
The victim is Mattia, a 24-year-old supporter of Napoli. Mattia was attacked and wounded in the English city after the Champions League match between the Reds and the Neapolitans.
Il Corriere del Mezzogiorno
writes the story of this young Italian fan who, on Tuesday night, was surrounded and beaten by seven hooligans just outside one of the gates of Anfield Road.
The intervention of a friend and a motorist who was passing by the scene,
helped him to save himself from the aggression
that, however, has had severe consequences. Mattia has suffered the fracture of the cheekbone and problem at an eyeball cavity.
This young Napoli fan may need a surgery but
luckily his life is not in danger.
The young victim had also the strength to release a few words to comment his bad experience: "I thought I was going to die".
Another episode of violence in England after the aggression of Roma fans against Sean Cox earlier this year. The English fan had even more severe consequences:
"Sean is going to need extensive rehab for a very long time to get him to where he needs to be, or to be the best that he can be now", Cox's wife told the
Independent
a few weeks ago "They say you never get back the same person but obviously we're going to try and push him".