Icardi: Inter should fight for first place, I want to stay and win with the club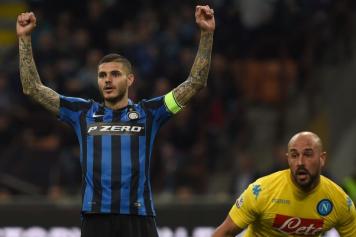 16 April at 22:51
It's been a red letter day for Mauro Icardi.
​Often criticized this season for not participating enough in the Nerazzurri's build-up play and for not being on top form, the Argentine came away from tonight's 2-0 win over Napoli with the opening goal on four minutes, and the assist for Marcelo Brozovic's effort.
​Interviewed by Mediaset after Inter's win, the Argentine talent had a number of things to say, including his wish to stay with Inter ("I want to stay, I want to win with this club") and to keep playing with his current team-mates ("We all like each other").
​The former Sampdoria talent also emphasized how hard the Nerazzurri worked to subdue Napoli, and that he believes that Inter are "a great club, I've always said that we should be fighting for first place. We had a very good first half of the season, but then we went through a bad period".
"We knew that each player had to sacrifice himself this evening, we ran so hard to create spaces on the counter"
​Asked by both Mediaset Premium and Sky about
his latest acquisition
, Icardi confirmed that he had bought it "because it was black and blue".
​Before laughing and riding off in the sunset.
@EdoDalmonte