Injured Juve star Marchisio bends the knee! (so to speak)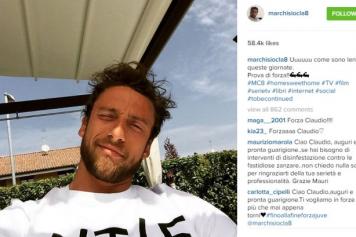 24 April at 18:48
Some good news, Juve fans!
Ahead of a tough rivalry game with Fiorentina this evening, fans of the Old Lady will be delighted to find the video below on Claudio Marchisio's Facebook page.

Having torn his left ACL, the Juventus talisman has been documenting his rehab following his recent operation, which came after he was carted off the Old Lady's 3-0 win over Palermo last week.

In the video, the Little Prince shows how he is finally able to bend the affected knee, and move his leg up and down.

Marchisio is set to miss this summer's Euro 2016, a big headache for Coach Antonio Conte, who considers him to be one of the midfield's indispensable cogs. Only slated for a return in late October, Bianconeri fans will hope that the Juventus Number 8 can trump all predictions once again.

@EdoDalmonte