Inside Juve dressing room: how Ronaldo and his team-mates celebrated win vs. Atletico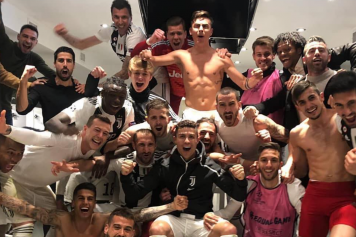 13 March at 17:20
The Juventus dressing room at the Allianz Stadium was full of joy last night. The Bianconeri completed an incredible comeback managing to beat Atletico Madrid 3-0 and qualify for the quarter finals of the Champions League last night.
Juventus were dragged by an incredible hat-trick of Cristiano Ronaldo who claimed the spotlight with two headers and one penalty kick scored with incredible cold blood.
A truly incredible night at the Allianz Stadium which Juventus players celebrated on social media with many pictures posted from inside the dressing room.
Watch them in our gallery. A night they'll hardly forget.