Insigne: I would have played in goal for Italy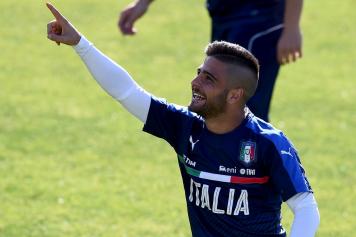 16 November at 15:05
Lorenzo Insigne has thanked some of Italy's senior players for backing his selection, but also insists that there is no problem with former Coach Gian Piero Ventura.
One of the Azzurri's most talented players, he was criminally underused as the four-time World Champions missed out on the World Cup for the first time since 1958.
Speaking to a Neapolitan paper, the 26-year-old star said that he was "sad" that Italy won't play in the World Cup.
"I'm genuinely sorry that I can't play in the World Cup, that's it," he told Il Mattino.
"I would have played in goal for La Nazionale, because this is a shirt which needs to be respected without hesitation.
"The Coach made a different set of decisions, he believed that those were the right players to take us to the World Cup. There is no problem: this shirt is a symbol, and I want to wear it for many more years.
The 26-year-old was adamant that there was no problem with the Coach :
"It doesn't matter who plays, the decisions must always be accepted. I even did when I was used for only a minute".
The Napoli star had further words for his team-mates, especially the veterans, who reportedly wanted Insigne to play. Daniele De Rossi refused to play in the final minutes as a sub, insisting that an attacking player (like Insigne) come on.
"I thanked Daniele because he did something great, like a true leader who wants to help the team."