Insigne reveals the main similarity between Mancini and Ancelotti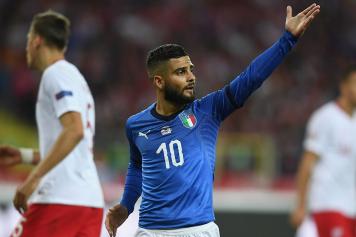 14 November at 14:50
Italy and Napoli forward Lorenzo Insigne is currently on international duty with the Azzurri, as the team prepare to take on Portugal in their final UEFA Nations League match and the United States in a friendly. Speaking at a press conference, Insigne said the following:
"The national team is missing the 'great Insigne'? I try to give my best, we get here once a month maximum and we know little in the field. I think it's normal to do better in clubs, in Naples we are the same three years, although it changed the coach.
"Striker? The new role was an intuition of the coach, after the outdoor Sampdoria I came back from Coverciano and told me about the new position. I prefer to play near the door, I immediately accepted. Going back on the wing is not a problem, I have always played that role.
"Features of Mancini? Each coach has his own ideas, the coach has changed a little bit and is asking us in the offensive phase to make different movements than when we started.
"Are Napoli in the race for the Scudetto? We need to win something. For the Scudetto it is difficult, we have in front of one of the most complete teams in Europe. We will try to say ours. The Championship still has a long time left, we will see at the end. The calendar should not lead to controversy: if you play afterwards and lose, nothing changes. We will always try to make a result.
"What would I bring from Napoli to Italy? I don't know - the mentality handed down to us by Ancelotti is already the same as that of Mancini."
For more news, views and features,
visit our homepage.