Inter, Crystal Palace are serious on the Eder front: the numbers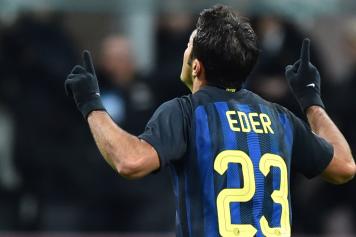 20 January at 19:30
Inter Milan have been pretty active to date on the January transfer window as they added both Lisandro Lopez (Benfica) and Rafinha (Barcelona) on loan deals. It might not end there for the nerazzurri as they have their eyes on Liverpool forward Daniel Sturrdige. If they are to get the Liverpool man, they will first have to sell off one of their own strikers as Eder might be the odd man out.
According to Corriere dello Sport (via InterLive.it),
Crystal Palace recently presented to Inter a 11 million euros offer for the Italian national team striker. Hodgson's team are looking for some offensive help as they like Eder a lot. He hasn't seen a lot of playing time at Inter under coach Luciano Spalletti as he might be open to leaving Milano.
Eder appeared in 15 Serie A games on the season (all as a substitute) as he scored one goal so far for the nerazzurri in 2017-18. A fresh start could help him find his form....